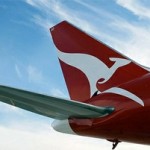 Disclosure: I work for Qantas managing their social media efforts.  I have tried to compile this case study as objectively as possible, but feel it is important to disclose my personal involvement and connection.  At the least you can be confident that the stats are accurate (not guesswork as with some case studies). Though I work for Qantas, the opinions and thoughts within this article are my own and do not necessarily represent those of the company.
Note: At the request of Qantas I have removed some sections of this article. I may also modify it further over the next few days. If you are a returning visitor you may notice some differences, however the core statistics and overview will remain the same.

In terms of an official communication channel, social media is still in its infancy. Recent natural disasters (which have been occurring at a much higher frequency of late) have started to highlight the huge potential that these networks have in disseminating information to a great many people in real-time.  On top of this, they have also proven to be a fantastic tool for two-way instant communication.
In situations of crises there are typically thousands, tens of thousands, hundreds of thousands and sometimes even millions of people who may be affected.  And it's often not just these people, but also their families, friends and workmates who are all looking to get information in times where traditional communication channels may have failed.
One of the more recent examples of social media use during crises is the response to the March 11 earthquake in Japan, where Twitter saw a 500% increase in Tweets from Japan as residents updated family and friends when the phone system failed.  Another good example from within Australia is the use of social media by the Queensland Police Service during the Queensland floods, where they used Twitter, Facebook and YouTube to provide updates, warnings and dispel rumours throughout the crisis.
Similarly social media has proven to be an invaluable tool for organisations in times of 'corporate crises'.  Though thankfully the recent ash cloud situation that saw hundreds of flights grounded throughout the month of June 2011 did not involve any physical harm to anyone, it did represent the greatest disruption to the Qantas network in the airline's history. Over 120,000 people were affected by flight cancellations and delays over a period of sixteen days.
As you can imagine, the Qantas call centres were inundated by these passengers who were all desperate for information on whether their flight was cancelled, when flights would resume and what they should do in the meantime.  This resulted in a significantly long wait time.  Understandably many customers were irate about the situation – it was after all, affecting their holiday or business trip. In defense of Qantas I will just say that there would be very few companies equipped to deal with so many thousands of calls coming through at once.  It was a sudden and unforseen occurrence that tested the limits of the company's customer service capability.
Regardless of culpability, the fact remained that thousands of Qantas customers were looking for information and updates, and traditional channels of communication were not proving adequate.
Enter: social media.
Qantas accelerated the implementation of their social media strategy when the QF32 incident happened late last year.  As a result there was already a substantial following on both Twitter and Facebook ready to harness to help spread real-time information and updates.
During the period of disruptions, Qantas' Twitter and Facebook channels were completely dedicated to ash cloud updates, information and most importantly responses to questions from affected customers.  When people could not get through to the call centre to find out if their flight was going ahead, they could find out in minutes through these channels.

The strategy
At the very height of the crisis (when almost all domestic ports were affected), hundreds of tweets were coming through each hour.  At this point the Twitter tweet limit was exceeded three times (twice with @QantasAirways and once with @QantasMedia).  This is the first time I have ever heard of this happening to any account.

On top of responding to questions and feedback, both channels were also used to actively provide real-time updates about flight disruptions. The Qantas Facebook and Twitter channels became the place where you could find out about the ash cloud updates first.
YouTube was also utilised to help communicate to customers, media and the Australian public during the ash cloud crisis. A short video was put together outlining the reasons why Qantas was choosing not to fly through or under the ash cloud when other airlines were.  The video starred the airline's Head of Operations and Chief Pilot describing the decision making process and relevant factors in a frank and honest way. This video attracted over 13,000 views over the first week as well as a great deal of positive feedback.
The stats
The statistics for the Qantas Facebook and Twitter channels during the ash cloud situation are proof of how successful the social media strategy was.  Because I'm quite sick of writing lengthy reports (not to mention lengthy articles) I have compiled the stats in some easy-reference infographics below. Much prettier than plain text!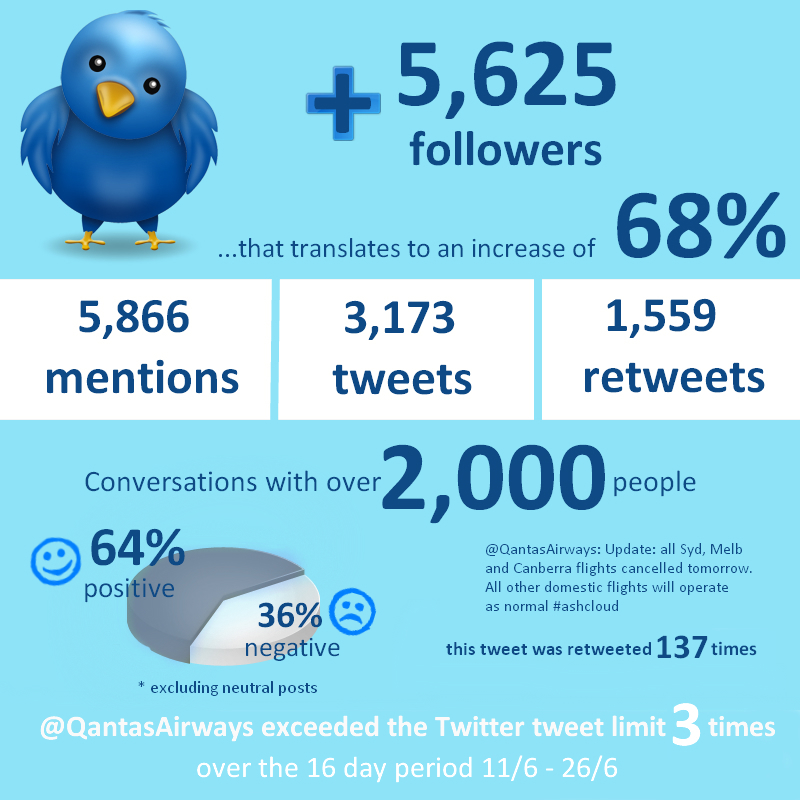 As you can see, the ash cloud situation led to a huge increase in followers/fans across both channels, as well as in conversations.  These stats represented an increase of about 300% in mentions and 360% in tweets from @QantasAirways during this period compared to normal periods of social activity.  The number of retweets increased by 1000%.
Remarkably, the sentiment of conversations on both Twitter and Facebook were predominantly positive during this time.
Post-ash cloud a compilation of literally hundreds of supportive tweets was put together as part of a detailed report – below is a small selection: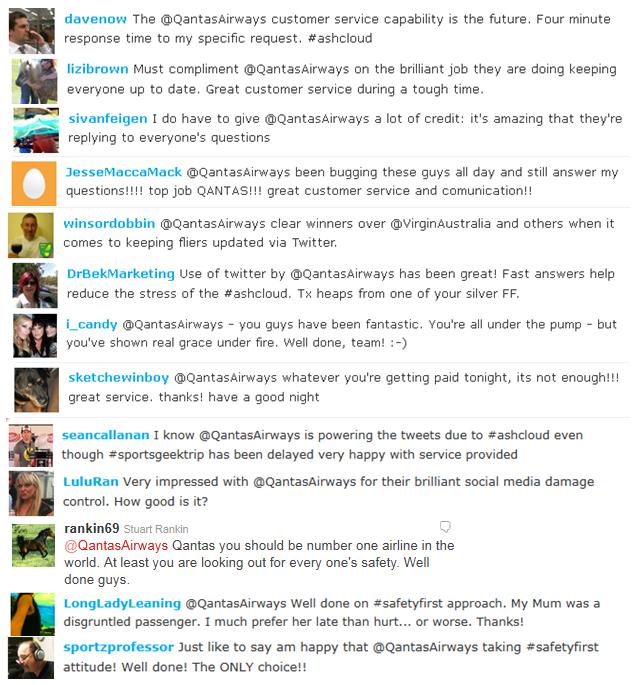 The learnings
Customers want to be able to communicate with the companies that they do business with. The more channels you give them to choose from, the happier they will be.  This fact is only emphasised further when traditional contact channels fail, and even more so when you are dealing with emotional and/or high-value products or services.
The dedicated social media strategy that was employed by Qantas during the ash cloud situation was effectively a win/win for customers and Qantas alike.  The customers were able to get the timely information and updates they needed and Qantas was able to offset some of the negativity and dissatisfaction that was arising due to long phone wait times, even delighting customers in many cases. The activity also led to a significant increase in communities on both Twitter and Facebook that Qantas can now capitalise on for future sales, campaigns and general customer engagement.
In fact the accounts attracted such a substantial increase in followers and fans that a couple of people went as far as to suggest that grounding the flights was an elaborate strategy purposely designed to build our social media communities. Given the whole thing cost the airline over $21 million( in lost staff wages, reimbursement of accommodation, meals etc), it probably wouldn't have achieved the best ROI, but we appreciated the laugh.  That being said, if there was a silver lining to this particular ash cloud, it was definitely the social media success.


On top of this, our use of social was reported on in articles in The Daily Telegraph and The Financial Review. One customer called a Perth radio station to tell them how he spent 90 minutes on hold to Qantas without getting through, but received a reply from us on Twitter within 5 minutes. Apparently (in his expert opinion) this was fantastic as "Qantas cannot cope with the number of calls, so Twitter is good for them."
Just today (9/7/11) in the SMH Traveller letters, Trent Lidstone wrote the following:
Tweet success for Qantas
I have read many stories about frustrated passengers trying to contact airlines during the recent volcanic ash cloud disruptions. My experience with Qantas was amazing.
I didn't try to phone but tweeted it for anything I needed to know and received a response within minutes. Qantas's use of social media during the drama was outstanding and should be applauded.
A keen social media observer also wrote a blog post comparing the use of social media by Qantas and Virgin during the situation. Here is a small excerpt (aptly chosen by me):
To put it simply: Qantas was the most active airline, seeking to respond directly to as many tweets from customers as possible, answering questions and providing them with relevant and useful information wherever possible.  No other airline, not even Virgin Australia engaged with consumers via twitter as much as Qantas, and it became clear three days ago that Virgin had given up entirely responding to customers.
Not only was it nice (on a personal level) to receive recognition and praise for the hard hours that the team had put in (little sleep and no social life for two weeks!), but it was a great result for the Qantas brand when things could have so easily gone a different way given the problems with traditional customer service channels.
Were there things that could have been done better? Probably. Nobody is suggesting it was the best strategic social media implementation the world has ever seen.  In fact we have compiled a list of improvements for future crises (fingers crossed there won't be any).  But at the end of the day it was a pretty good outcome for the cost of a few staff members' time.
The conclusion
I wouldn't hazard a guess at how many hours of Qantas customers' time were saved through the use of social media throughout this crisis, but I can tell you it would be in the hundreds – and possibly thousands.  If that's not an argument for its use by any company (particularly those with thousands of customers), I don't know what is. The truth is that the ash cloud was one of the most difficult times in the history of the airline and served to prove that sometimes nature can conquer your traditional customer channels.  Some people may still scoff at the potential benefits of social media for business, but in this case it truly saved the day.  It was quick, it was easy and it worked.
If you have any further questions about how social media was used by Qantas during the ash cloud situation, please ask them in the comments field below or send an email to [email protected].