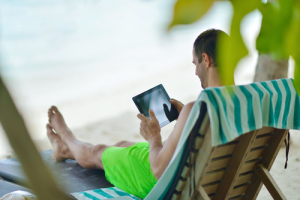 Many business owners today require the ability to work from home, on the road, or from the lake, with a flexible schedule. Managing a business remotely requires different skills and tools than being onsite and being able to walk from one desk to another or gather employees in a room for a meeting.
Better CEO founder John Seiffer says running a company remotely can be frustrating and requires a little more planning than in a traditional office environment. It requires a different management approach and constant communication, plus the technology to do so to be successful.
1. Tools for Communication
Just because the workforce is spread throughout different geographic locations, the need for productive meetings doesn't go away. It actually becomes even more important according to Seiffer.
The weekly staff meeting needs a consistent format no matter what technology is used to conduct it. Remote meeting software like GoToMeeting and Fuze makes it easy to get everyone online for audio and video conferencing with a laptop or tablet and Internet connection. Skype, Google+ hangouts, and smartphones make communicating with everyone on the team easier, and provide the teamwork and regular review to stay productive, no matter their location or lifestyle.
2. Tools for Collaboration
Chris Jackson, director of marketing and branding at College Hunks Hauling Junk, says internal chats via Yammer or Google+ help keep teams in close communication and are often easier than email communications for remote work. File sharing systems are important to remote work and programs in the cloud like Google Docs and Google Drive allow teams to see the work in real time and know the progress and productivity levels.
Collaboration programs like Basecamp and Asana have effective project management tools such as calendars, the ability to track multiple projects, send reminders, and work in a variety of formats anytime, anywhere.
K.P. Partners founder and president Keri Pearlson reminds business owners that working remotely requires people to be diligent about checking whatever programs or systems they are working in regularly and consistently.
3. More Tools
Automating processes is a necessity of working and running a business remotely. When you're not going to a physical office every day and working at a desk, it's important to get things like paperwork, reports, and accounting done in the cloud.
Expensify is a mobile app that automates the expense report process and eliminates the monthly pain of digging up receipts, adding up expenses, and getting signatures.
ShoreTel Sky's VoIP technology enables remote workers to transfer calls as if they were in the office using a company phone system.
If your team needs to get together regularly to work things out, HipChat is a group chat program to do just that.
Take the pain out of time tracking and other processes with Harvest.
4. Gadgets for Remote Work
Be ready no matter where you're working or what devices you work on with the Griffin PowerDock5. Make sure you can always charge your smartphone or iPad even if you're out in the woods or on the beach with a portable battery charger.
Take advantage of the newest gadgets to make working remotely easier, offer them as perks to top performers, or use them as part of performance contests to give remote workers a way to earn them.