7
Facebook Timeline for Pages: everything you need to know and more.
Facebook Timeline for Pages has arrived.

Facebook Timeline for Pages is now available for ALL Facebook Pages. However, before you rush to convert your Page, there are a few things you should keep in mind. You also need to know that the transformation is going to be MANDATORY after 30 days, so it's not a case of if you convert, but when.
If you want to scope it out, you can visit the Social Skinny Facebook Page here, which has been converted today.
Update:  I am hosting a one hour webinar that will go through all the new changes and provide an overview of how you can take advantage of them to get the most from your Page. You can read more and register here: Webinar: Facebook Timeline for Pages 101. There are only 10 more places available.
Here are the things you need to know:
You can now pin your posts: You now have the option to pin a post for up to a week at the top of your Page. This way you can keep an important message prominent for longer, even if you post other things in the meantime.
It's more visual, and you can add a cover image: The new Facebook Pages are basically being brought into line with the profile timeline format (with some slight changes). This means that you can add a big fat cover image (850px by 315px) – however it cannot contain the following:
Price or purchase information, such as "X % off" or "Download it at our website."
Contact information, such as web address, email, mail address or other information intended for your Page's About section.
References to user interface elements, such as Like or Share, or any other Facebook site features.
Calls to action, such as "Get it now" or "Tell your friends."
So all in all that is pretty sh*t really. The timeline format itself will now make your page much more visual in general, with a focus on images. This may mean that you focus on including visual elements in your post more than ever.
Receive and respond to private messages: You can now receive and respond to private messages from your fans. We've all been waiting for this one.
No more default landing tab: Another bummer. You cannot choose to have a default landing tab any longer. All visitors will be automatically directed to your Wall (where you cannot have a call to action in your cover image either)… so if you are running contests or promoting something, you'll need to pin the post about this to your page.
Admin Panel & Activity log: At the top of the page you'll now get an 'admin panel' which details your activity, insights data, private messages and allows you to feature, hide or delete posts on your timeline.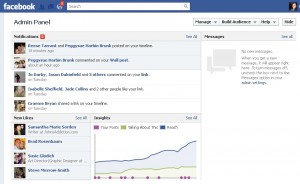 Not visible for mobile – yet: Although profile timelines are visible from mobiles, the Facebook Page timelines are not. Yet.
Go back in time: Just like with Profile Timelines, Page Timelines can allow you to add posts, events, links, photos etc from back in time. This means if your company has a long and interesting history, you can add it all in (think: XYZ company is formed! With a pretty picture of your first office).
Change your Page name: Here's an important one. Facebook is now allowing Pages to change their name. You just need to contact Facebook through the hyperlink I just provided. Plenty of admins will be relieved about this one.
Photos, apps (tabs) and likes are up the top: I like this, however some of your application tabs aren't going to be as visible. Two of them will be more visible though… so it's a trade-off I'm willing to make. Also apps can now be 810 pixels wide, instead of the previous 520. Profile pics must be 180x180px.
Less focus on posts from fans The new format places less emphasis on posts from your fans. They are grouped together in one timeline box, rather than given equality with your posts on your Page as in the past. This could be a good or bad thing depending on your Page.
If this sounds good, you can upgrade to your Timeline here. You can see what it looks like on the Social Skinny Facebook Page here. You can also view the Facebook video about the change below.

What do you think about this change? Love it or loathe it? Discuss