1
How to Protect Your Brand Reputation on Social Media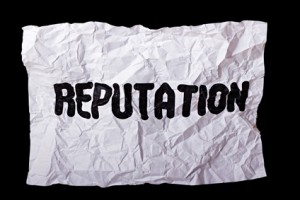 It was Benjamin Franklin who said, "It takes many good deeds to build a good reputation and only one bad one to lose it." In other words, it is better to protect your image than to try and rehabilitate it.
A survey by the property and casualty insurance company ACE Group found that 92 percent of companies interviewed consider "reputational risks" to be the most challenging of all risks to manage. At the same time, 81 percent of these companies consider their reputation to be their most significant asset.
While there is no definitive way to determine which social media channels pose the greatest risk, a study by the Altimeter Group asked businesses to estimate their perceived level of risk through different channels. LinkedIn was considered a risk by just 5 percent of respondents, while sites like Pinterest, Flickr and Foursquare were named by only 3 percent of businesses. 35 percent of respondents named Facebook as their most significant risk, while 25 percent worry most about Twitter, and video sharing sites like YouTube and Vimeo were considered a risk by 15 percent.
Reputation.com, a group that helps you discover, manage and take control of your corporate image, reports that in the span of 10 years, businesses have gone from putting out simple news releases to engaging directly with their customers through social media. How you engage will color the way people view your company.
Make Your Social Media Policy Clear
Meet with all employees. Make it clear that your business is going to use social media and that it is vital that the company is well represented. It is doubtful that Goldman Sachs ever thought one of their executives would quit his job by writing an op-ed in the New York Times, telling the world how unethical his former company was. Further, they could not have dreamed that the op-ed would go viral, reaching millions of people. Although Goldman Sachs attempted to mitigate the situation by distributing their own version of the story to the media, the damage was done, reported Risk Management Magazine.
While you can't stop your employees from saying what they want, you can emphasize the value of working together to build a great reputation. In addition, you can add a social media clause as a condition of employment. For example, just as many companies have their employees sign a "no-compete" clause in the event they quit their job or are let go, your employees can sign an agreement stating that they are working for you with the understanding that they may not mention your company in a negative way through any mode of social media for a fixed amount of time.
From the Top Down
Pulse Point, a management and digital consulting group, reports that the most engaged companies are involved in social media from the top down. The companies that see the least return on their social media efforts are those companies in which top executives do not participate in the efforts. Once you've spread word throughout your business that social media matters, top management should take part in order to emphasize the importance of getting the word out in a positive way.  An additional benefit of you and your key staff taking part in social media is the opportunity you will have to model how you would like the company to be represented.
Seek Expert Help
Once you've gotten everyone on board, look for ways to proactively protect your online image. The startup company, Persona, helps businesses monitor social media posts made by their employees in order to protect their corporate reputation. It's important to remember that even the most innocent posts on Facebook or Twitter can do damage. While the person who posts on behalf of your company likely means no harm, there is always the chance that people will find a joke, photograph or quote offensive. Persona is designed to be part of an overall campaign to protect your image.
Assign Social Media Patrol
Make sure at least one person stays on top of social media throughout the day to check for any mention of your company via monitoring tools like Hootsuite. Staying vigilant can allow you to head big problems off at the pass, and possibly make amends before things get out of hand.
Come on Strong
Think of social media as a cloud. The larger the cloud that covers your business, the smaller effect one or two negative comments will have on you. When someone searches for your business, you want them to easily find you, along with all of the positive things being said about you. Build the largest cloud possible through sources like Facebook, YouTube, LinkedIn, Twitter, your corporate website, and advertising campaigns. And then, most importantly, make sure every one of these channels are being monitored.
Author: Shaun Daniels is a social media intern for an SEO company.