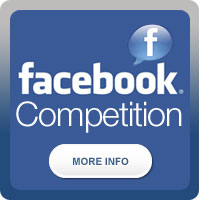 These days facebook competitions are more common than footballers' drunken rampages. Every second promotional email you get is urging you to get involved with some new Facebook comp in order to win an endless list of useless crap (holidays and cash excepted). Businesses have realized that, just like when they were trying to get people to sign up for their crappy e-newsletters, bribery is the best way to go with their Facebook communities also. We are a fickle generation, and quite frankly, we probably don't give two shits about what your company has to say on the one network we use to escape the real world of work, constant commercials and everything else. Unless, of course, there is even a 1 in 1,000,000,000,000 chance that we might win something. Then, it seems, we are more than happy to press that little 'like' button and submit to receiving shitty updates from you forever after.
Of course, we can always unlike you later, but chances are we will be way too lazy to figure out how to, and you are banking on that. More than likely, we may still hide your feed, but at least we are still contributing to your perceived digital popularity. I mean, if a business has 10,000 fans on Facebook, their products must be awesome. Right?
Anyway, that's really all beside the point because what this article is REALLY meant to be about, other than trying to break the record for the most amount of swear words in a paragraph, is why you are probably conducting illegal competitions (if you own a business page) or entering illegal competitions (if you are a sucker consumer). Or both. It is important to note that my use of the term 'illegal' is quite loose, and in actual fact, you probably aren't breaking the law per se, but you are violating Zuckers' terms and conditions, which, quite frankly, is worse. I think we all know we'd prefer to spend a few nights in the slammer over having our Facebook account permanently disabled.
Right. So put your hand up if you've ever seen a Facebook competition offering some form of even vaguely interesting prize if you comment on their status, post on their wall, share their page with your friends, tag themselves in one of your photos or something along these lines. What about those even lazier ones who ask that you only like their page to be in the running? These guys are basically flipping Zuckers the bird. You see, Facebook has some serious hardcore rules about what you can and can't do when running a competition through your Facebook page, and every example above violates them.
Basically, you can't run any sort of competition, contest, sweepstakes or promotion on Facebook UNLESS you are using an application (if you're looking for an easy way to do this, check out Shortstack) – that includes any element of a promotion, so no collecting entries, judging entries or notifying winners. Nothing can be done on Facebook, but since these applications are effectively being hosted off Facebook and simply pulled into a tab on your Facebook page, it's OK.
Of course, the shitty thing about this is that you either have to a) spend a bit of moolah to create said application or b) utilize some sort of third-party app that some capitalistic developer has created that will almost definitely include a bunch of their ugly branding and not a lot of scope to change anything.
So because I know you are all Facebook novices and probably do not fully understand the above, let's spell out nicely and clearly what you CAN NOT do on Facebook in relation to running a competition:
Administer any sort of promotion (or any element of a promotion) other than through an application
Require an entrant to take any action outside the application (e.g., like your content, comment on your wall, upload a photo, tag you in a status update or refer a friend) to enter a competition (with the exception of liking your actual page)
Indicate Facebook is a sponsor or administrator or in any way associated with your promotion
Use Facebook's name, trademarks, trade names, copyrights or any other IP
Administer a competition that is open or marketed to individuals under 18 (*since revoked)
Administer a competition that is open to individuals who reside in a country embargoed by the US (*since revoked)
Administer a competition, if it is a sweepstake that is open to individuals residing in Belgium, Norway, Sweden or India (*since revoked)
Administer a competition where the objective is to promote gambling, tobacco, firearms, prescription drugs or gasoline (*since revoked)
The prize includes alcohol, tobacco, dairy, firearms or prescription drugs (*since revoked)
The promotion is a sweepstakes that requires the purchase of a product, completion of a lengthy task or other form of consideration in order to enter (*since revoked – you can now require people to purchase your product first, pending the laws in your country/state)
Contact any entrants/winners through the Facebook platform (including through inbox messages or wall posts)
Administer a competition that entrants automatically enter by liking your page, checking in to your place or connecting to your platform integration
Instruct people (in the rules or elsewhere) to sign up for a Facebook account before they enter the promotion
So the question now remains, what CAN you do when running a Facebook competition?
Require an entrant to like your page, check in to a place or connect to your platform integration in order to enter your competition (however, there must be a next step to enter, including providing contact details)
Require the entrant to upload a photo or video as part of their entry – if this is facilitated through the third-party application
Now what MUST you do when running a Facebook competition?
Administer competition through an application, not through your wall or any other means
Include the following disclosure adjacent to any promotion entry field: "This promotion is in no way sponsored, endorsed, administrated by, or associated with Facebook. You are providing your information to [recipient of information] and not to Facebook. The information you provide will only be used for [disclose what you intend to use info for]."
Include within the promotion's rules: 1. A complete release of Facebook by each entrant of participant 2. Acknowledgment that the promotion is in no way sponsored, endorsed or administered by, or associated with, Facebook.
Collect adequate contact details so that you will not need to contact winners/entrants via Facebook platform
So that about sums it up, really. You can't do much, and it's pretty damn hard to do it without at least a bit of money. Of course, the great majority of page admins have been studiously ignoring these terms and conditions from the beginning of time with little to no consequence. However, Zuckers is more than able to shut down your page or your account with no warning and absolutely no chance for reinstatement or recourse should he get wind of what you are doing.
It also opens up a minefield if you've got some competitors out there who may be paying attention to what you're doing because they may just decide to play dirty and report you to the powers that be. So if you choose to ignore the rules of Facebook, be prepared to face the consequences. And when it comes to Facebook, they can be devastating.
If you want to check them out for yourself, visit https://www.facebook.com/promotions_guidelines.php
**UPDATE 19/5/11: Facebook has changed its promotional guidelines this week to remove a number of prohibitions in order to simplify competitions.  I have noted each condition that has been revoked in the points above.