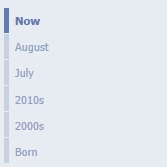 If you haven't been living in a coma for the past couple of days you would by now have heard that our Facebook profiles are about to get probably the biggest overhaul since good old facie-bee was born. I'm pretty sure most people are in get-set-to-whinge mode, but I converted my profile to the new timeline format this morning, and for what my opinion is worth (I am fully aware it's probably not much), I actually really like it.
Here's a detailed overview of what you can expect to see, followed by instructions on how to get the new format now (if you want to speed up your roll-out). Don't change over if you think you're only going to whinge about it, but if you like to be one of the cool kids and have things first, this is the 'beta version', which instantly makes you awesome for having it. At least, that's the way I feel.
Here you go:
First of all, here's a picture of what it looks like..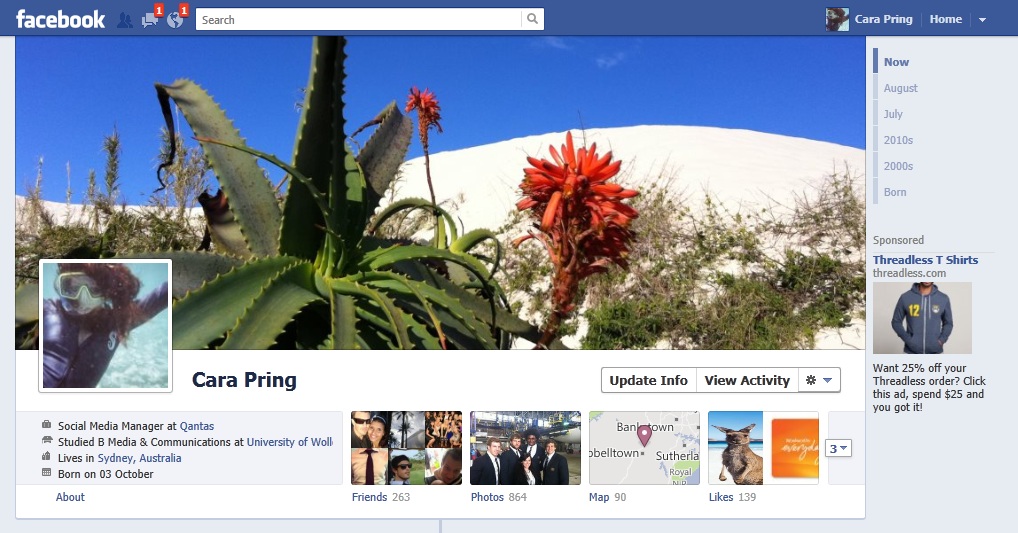 Feature 1 – your 'Cover'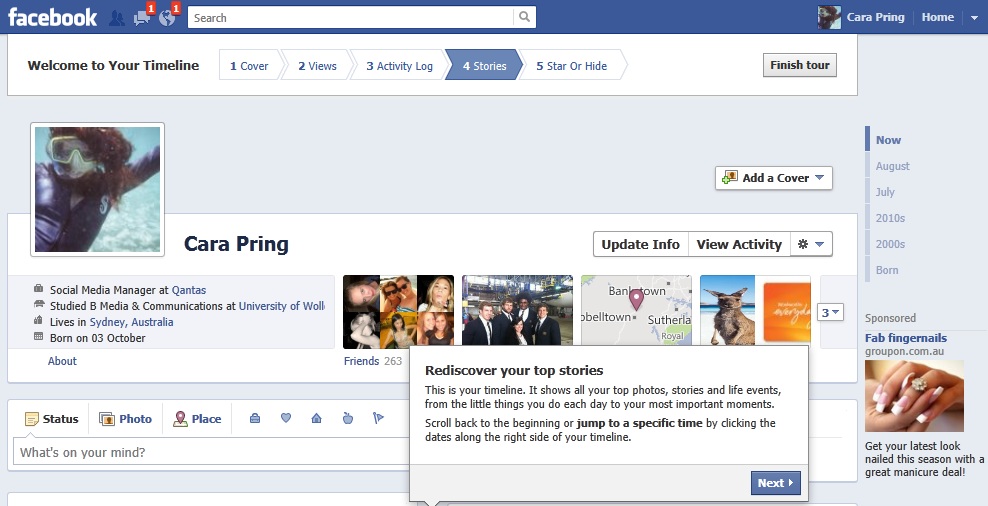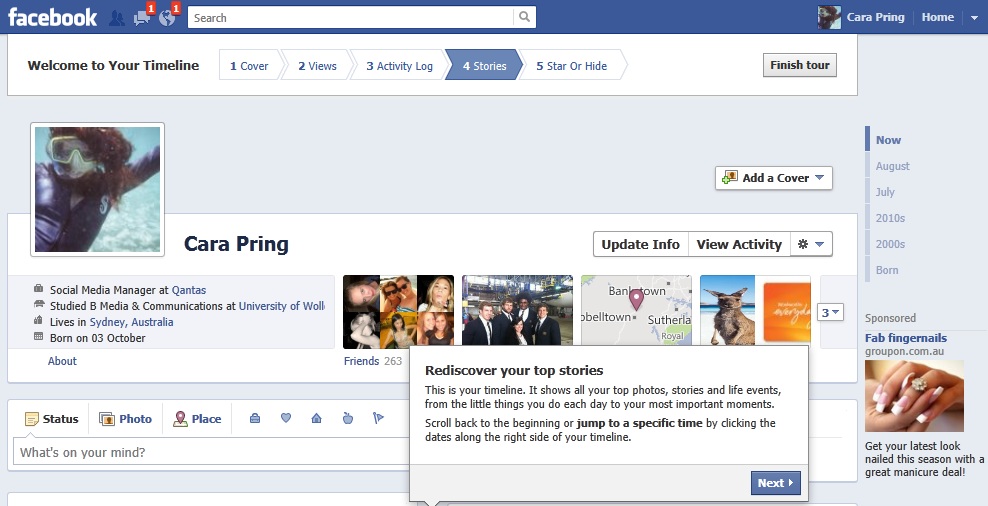 This is basically some code word for gigantic-ass banner picture that you can put across the top of your profile page. It isn't your profile picture- you still have this and it's placed to the bottom left of your Cover pic. You can choose to upload a picture, or choose one from your Facebook albums.
Feature 2 – Views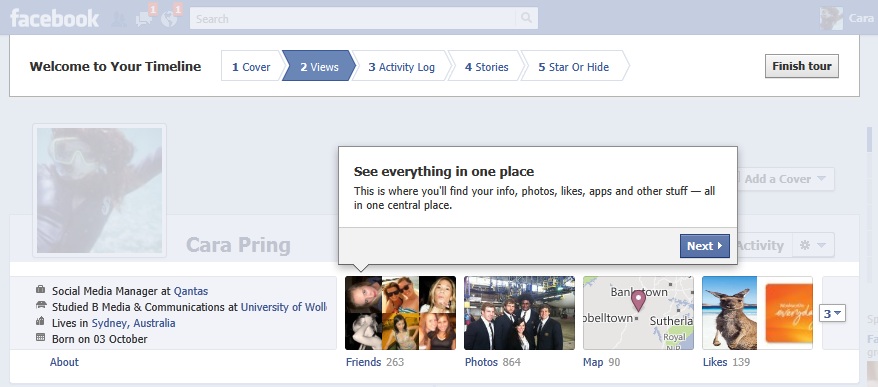 Facebook have moved a lot of your associated content like info, photos, likes, apps etc from the left column or separate tabs to once centralised place, under your 'Cover' (aka big-ass mother of a banner pic). If you look at the little '3' to the right of this section in the pic below, if you click this, more options will drop down – including subscribers and subscriptions. Currently I'm being a bad social media specialist and have 0 for both of these. Apparently I'm not stalk-worthy! Humph!
Anyway, my favourite addition here is the 'map' feature. If you click on this, it displays all your check-ins (or presumably any update where you attached a location to) etc on the map. As you can see below, it even tells you how many are 'stories', 'life events', 'photos', 'entertainment' 'public places', 'lodging' etc. You can then click on any of the pins on the map to display what your update was at this place. Pretty cool!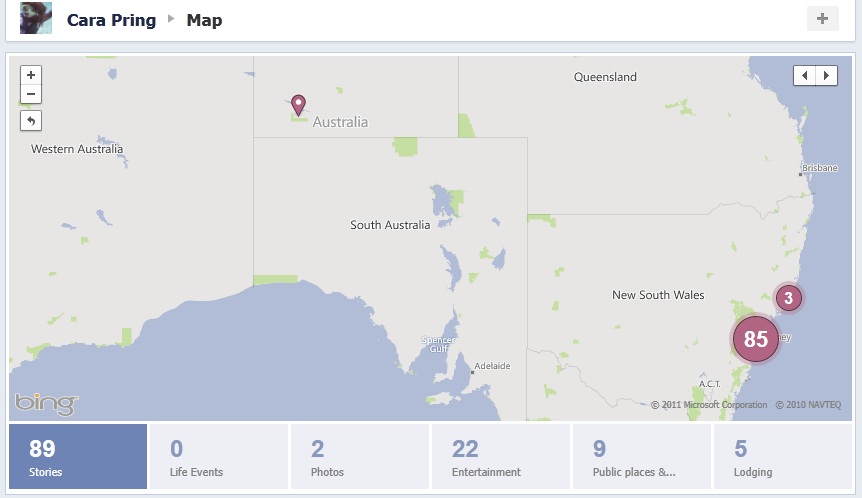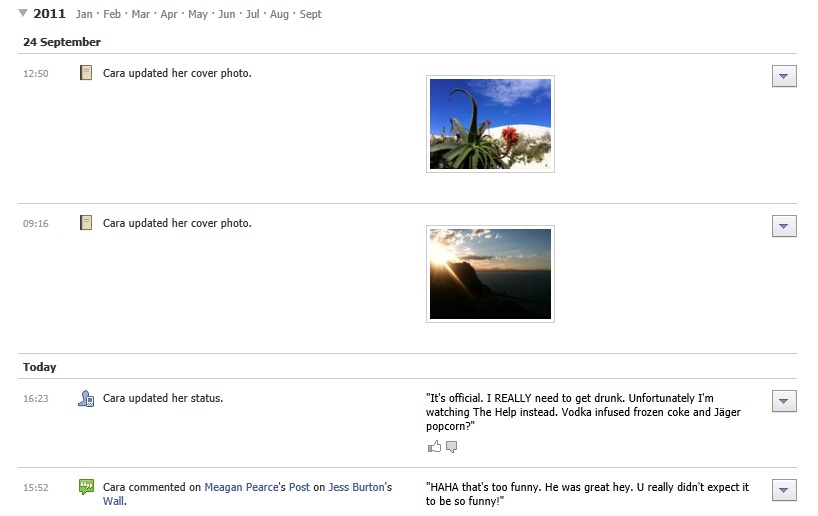 This one is your own private log of every single status, check-in, photo, comment, action etc you have done since you gave your life to Facebook. You have three options for each story – you can 'feature' it on your timeline, you can allow it on your timeline or you can hide it from your timeline (no one can see it). You can change the year up the top right of the page, and click on any month to view all your activity for that month.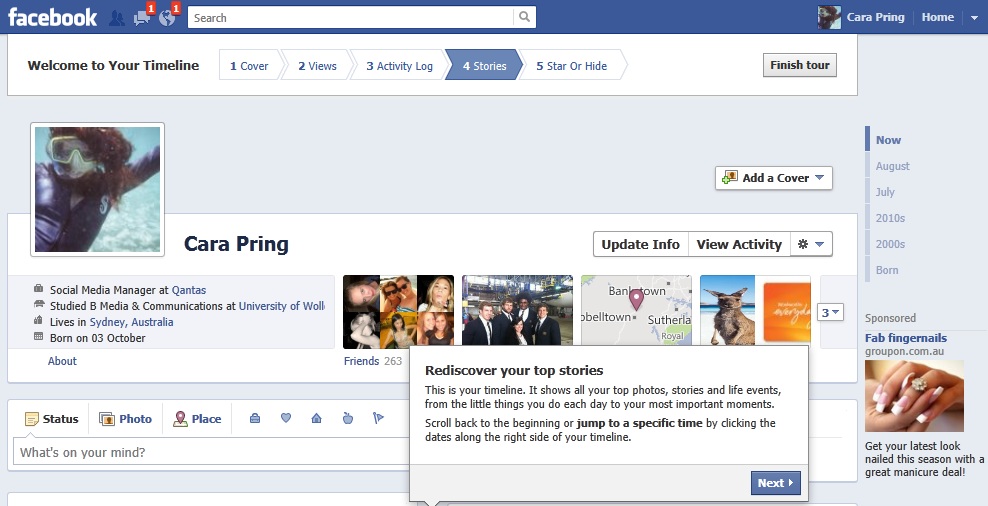 If you want to see what your top Facebook activity was for the entire time you've been on Facebook (or even for your whole life) you can jump to any time on your timeline by clicking through the timeline on the right of your page (see above).
You can also add stories or events at any past date, in case you missed at the time OR you weren't on Facebook back then. I imagine there may be quite a bit to add between the 'Born' and the year you actually joined facebook, which was probably a considerable amount of years after this date.
You can then give Mike Munro a call and tell him not to bother with the researchers, he can just construct your 'this is your life' show from your Facebook profile. So much easier.
Feature 5 – 'Star or Hide'
This is pretty much what I described you can do by going through your activity log, but of course you can also choose which items you want to feature or to remove from your timeline by scrolling down your profile and interacting with the items that way. It is obviously very customisable.
Feature 6 – new posting options.
Your new status bar will allow you to attach much more than a photo, link, video or place to your updates. You can now attach actual events – the dropdowns include:
• Work and education
• Family and relationships
• Living
• Health and Wellness
• Milestones and experiences
Under each of these they give you further options, for example under Living, you can choose 'Moved', 'Bought a Home', 'Add a roommate', 'Add a vehicle' or 'Other Life Event' – see below: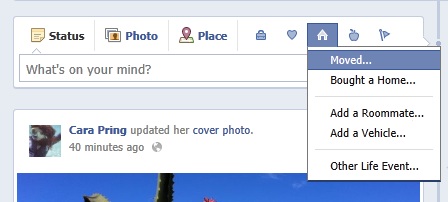 If you choose one of these, you're given a whole pop-out box to fill out – for example, for 'Moved', you see the following: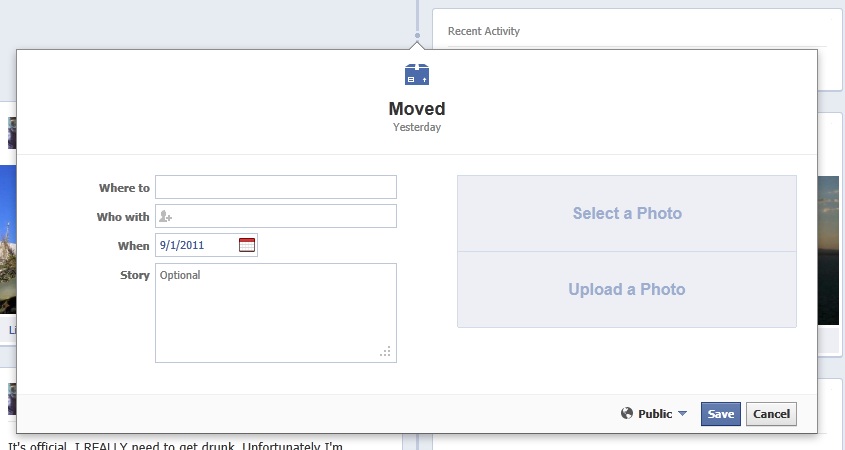 You can then fill out the fields and it is input to your timeline, forever. As I've mentioned, you can choose a date in the past – even years ago – and it will insert it nicely into that section of your timeline.
So now you know what it is, you need to figure out if you want to get access to it right now, or wait a couple of weeks until it's rolled out. If you want to get it NOW, read on…
How do you get the Facebook timeline right now?
If you think that all looks pretty damn cool, this is how you can join me in the world of timeline awesomeness:
Head to the Facebook developer site: http://developers.facebook.com/apps. If you haven't already used developer features, you may need to 'allow' it. Just click the 'allow' button.
Click the 'Create New App' button on the top right. Give your application a display name and an app Namespace. Don't worry about these two, just use whatever you like (the Namespace will need to be something no one has used before). This won't be visible anywhere so don't spend too much time thinking about it. Agree to the Platform Privacy Policy and continue. Make sure you have a verified Facebook account – you can do this by supplying your mobile number, or a credit card.
You then need to go to the settings screen for your new app. It will probably send you there straight away, but if it doesn't, just click 'Edit App' at the top right. Over on the left there should be a section titled 'Open Graph' – click on this. Put 'Watch' in the first box and 'Video in the second box' and click 'Get Started'.
Ignore any error message Facebook serves you (I got one, but it still worked), head to your homepage and you will see an invitation up the top to trial the beta version of the new profile. Do it, and start enjoying your new profile!
One more thing, once you fill it all out and take the tour (which you won't need after reading this), you have to remember to click the 'Publish Now' button up the top, so that the new profile is active. HOWEVER, only other 'developers' who are in beta testing like you will be able to see your timeline, everyone else will see your old profile. Kinda makes it a little less exciting, but still cool to be one of the first to trial it!
What do you think? The worst thing to happen since those family stickers that people put on the back of their cars that make me want to smash into them, or the best thing since something that was awesome (I spent all my time coming up with the stickers thing)?