When it comes to the success of your business, the importance of a website cannot be overstated. A great business website will work like an extra employee on the clock 24/7. It will constantly be pulling new and recurring visitors to your site, exposing them to your brand and offerings, and increasing your business! Your website can serve as a customer service expert, scheduler, and consultant.
The only obstacle to getting this incredible "employee" added to your team is the task of creating a great website that will drive traffic on its own!
Website traffic indicates business growth and drives it simultaneously. It reveals information about the effectiveness of marketing campaigns and insight about your audience, improves your ranking on search engines, and generates conversions. Getting the traffic to a high level will benefit both the indicative and motivational aspects of your website and allow you to see how your business is doing well and what you can do to drive its further success.
Without further ado, let's go ahead and dive into the top 3 ways to get more web traffic.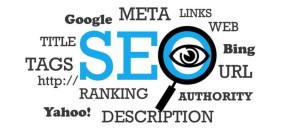 SEO
Search Engine Optimization wins the top spot on this list because the influence of search engines on website traffic is incredible! People are statistically much more likely to click on a link to a website that ranks on the first page of Google (especially the higher-ranked links) than they are to click on a website URL on any page after that.
Within your website, include things like headings, subheadings, bullets, text boxes, and strategically placed keywords. Keywords are terms that searchers type in when trying to find information related to your site. Find out what those terms are (with tools like Google AdWords) and use them throughout your site copy. Be careful not to overstuff the keywords, though, or Google will punish you with a lower ranking. It's key to find the happy medium.
You'll want to target widespread SEO to increase the exposure of your brand but also local SEO. For example, if you're a business in Ft. Worth, TX, you not only want to apply SEO for American searchers, but also SEO in the Dallas area to find local residents that would are more apt to actually become customers.
Social Media
Our number two spot goes to social media, as it's an easily accessible platform to reach new prospective customers that aren't currently visiting your site. It provides the opportunity to present your brand to a new audience and convert them into customers.
First, you must decide which platforms are right for you. Perform some industry research to determine where your target audience already exists and follow them. Then, begin posting content and building a community by responding to all engagement, following similar accounts, using hashtags, geotags, or tagging important accounts. Always include your website link on any social media profile and provide direct calls to action to turn viewers into clients.
Get Listed
Finally, the last quick tip to really driving website traffic is getting listed or recommended elsewhere. This goes for online directories, review sites, affiliates, or even social media!
Review sites like Yelp and Indeed crowdsource reviews and ratings and often help consumers find a provider. If your company and website are not listed on these top sites and other niche directories, request to add them or add them yourself. This will create more opportunities to click back to your page.
Also, consider asking like-minded but non-competing brands to list or recommend you on their social media. Recommendations from other trusted companies aren't taken lightly by customers, and they may check you out if they are a fan of the other company.
Let Them Come
If you begin your journey to increased traffic with these three top tips, you'll be three steps ahead of the game. Continue researching and optimizing your site to become the best of the best, and the traffic will come!