Simply having an online presence and believing that will help your business just won't cut it anymore. Today's businesses are highly competitive. They all have Facebook pages, Google pages, and LinkedIn pages along with their actual website.
Instead of just having a website to have one, focus on how you can use it to achieve your company's goals. Your website is what drives your digital marketing strategy. It drives your traffic generation, customer retention, and conversion optimisation. Each business has different marketing needs and their website will help them achieve them.
One of the most important elements of your website is graphic design. Poor graphic design can cause internet users to click away from your site, meaning that you'll lose many potential clients. More importantly, poor graphic design can negatively affect your business's SEO.
You want to have the best graphic design to pair with your SEO, so you need to hire the best people for the job. Professional companies, like Edge Marketing, will ensure that your marketing is enhanced by your web design.
Following are 4 reasons why graphic design is so important for your SEO.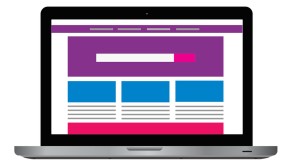 Not Knowing the Tricks of The Trade
Knowing what you should avoid in your design is almost as important as knowing the solutions to problems businesses' have, but many people don't know this. When you don't find a way to unite SEO and graphic design into a solid plan, problems soon arise.
Content is the most important part of SEO. But where that content is placed also plays an important role in its effectiveness. When content is poorly positioned, online users have a hard time understanding your message and picking up on trust signals and calls to action.
When you properly understand effective website structure, you open up a way to understand the user's perspective. Bad graphics and design can trigger distrust in users. Even if your content is the best it can be, poor graphics and poor content placement can make potential customers think that your company is a scam or illegitimate.
It's the first impression you're making so you want to make sure it's a good one.
Fonts Have an Effect
A huge part of graphic design is the font. The font you choose determines the readability of your website. A good font will ensure that your SEO content is actually able to be read by internet users. In good graphic designs, people will use banners and calls to action to draw in potential customers. If you use fonts that look fancy but are unreadable then you cancel out any positive effect.
Good graphic design employ images that have nice, readable fonts. They pair them with visual effects like gradients and drop shadows to create interesting, attention-drawing elements. When you further pair the font of graphics with the font used on the browser and in HTML, users will find the website to be professional and easy to use and stay on your website.
Made for Mobile
The graphic design that you go with needs to easily translate onto more than just your desktop screen. Your graphics must be optimised for mobile devices as well.
Bad graphic design can make it impossible for users to navigate your website while they're on their smartphone or tablet. It can cause mobile users to scroll to the side or feel like they're scrolling forever. When the graphic design of your mobile site is bad, mobile users will click away before checking out your content. Since an increasing number of web users are relying on their mobile devices, this is a major concern.
Having your mobile website optimized with appropriate graphic design elements and SEO is extremely important in this day and age. The internet is becoming more and more geared to mobile use, so your business has to keep up with the times.
To optimise your graphic design, ensure that the page loads quickly and that the elements shrink to the smaller screen size.
Importance of Mastering Visual Storytelling
While SEO will help your ranking and will draw traffic to your site, they won't stay to see your quality content if your graphic design is poorly executed. Every aspect of your website is important, be sure that you invest your time and money to help your business grow.