Hello, and welcome to my review of the popular e-commerce tool Volusion. If you sell products or services online, the chances are you have implemented some sort of e-commerce solution on your website. Maybe you just installed a plug-in, or maybe you got your web guy (or girl) to code some magic, or maybe – just maybe – you're using a third-party solution like Volusion.
I love these types of online tools because they pretty much exist to make our lives easier and quite often do the thinking for us. Getting a custom-built solution can be OK in the beginning, when you only want the ability to transact on your site, but what happens when you decide you want to implement more features, like additional tax rates or analytics or even just shipping options? MORE MONEY. That's what happens. LOTS OF MONEY, because those web developers they aint cheap. So here's the first in my series of website tool reviews because I love e-commerce, and Volusion is a great e-commerce tool that you just might want to try out.
*side note – check out the amazing graphic I put together – all by myself – for this article. Seriously, is there anything in this world I'm not a total and complete master at? Add a graphic design to my super-long talent list – right? Right..
What is Volusion
Volusion is an all-in-one e-commerce solution – they provide hosting, templates, shopping cart functionality, product management and more. If you're looking to launch (or upgrade) your e-commerce site (aka your online store) so that customers can easily browse, search and buy your products, then Volusion is a very competitive option. It allows you to manage product orders, inventory and returns, as well as offering analytics, SEO and social media features to make life even easier.
Volusion offers an end-to-end e-commerce solution where you can host your online store, choose an appropriate free template, purchase a premium template or even engage a designer to help you out.  This is particularly handy if you're starting out from scratch – it's basically a one-stop shop.
All price plans come with 24/7 support, mobile commerce, Facebook Store, social media tools and automatic tax rates (if you're transacting across domestic or international borders). The more expensive plans come with added features like abandoned cart reports, ratings & reviews, newsletters, phone orders, import/export functionality, CRM, deal of the day functionality, MyRewards loyalty program, eBay and Amazon integration, API access, batch order processing and even your own account manager.
What does Volusion do well?
A free 14-day free trial with no commitment or credit card required – this is great for people who want to test the waters first
It's a one-stop shop that provides pretty much all features you'd be looking for in an e-commerce solution, particularly if you're paying for one of the higher plans (Silver, Gold or Platinum) – they also offer access to a full range of professional services from custom design to online marketing to help you be even more successful (at a cost)
There are over 900 documented features that are on offer – these include things like a deal of the day, merchandising features, eBay and Amazon integration etc. – there are some really cool and handy things you can do (though you may have to pay extra)
Volusion offers 24/7 customer support via US-based phone support as well as online options – this is pretty important when we are dealing with e-commerce websites – you definitely don't want to be stuck in a position where your online store is out of action for any serious length of time!
They claim that their users (merchants) earn 3x more revenue as other e-commerce solution providers – with over $ 6 billion in sales to date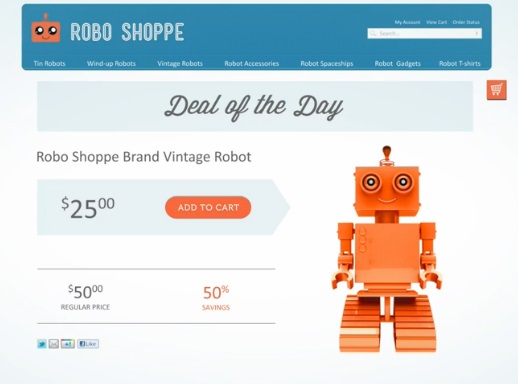 What does Volusion not do well?
Hidden fees – I have heard a few people complain about added hidden fees on top of the initial monthly plan that can add up, for example, for added security features
There is limited bandwidth on the smaller packages, meaning you may have to go up plans if your store starts growing (not necessarily a bad thing as you'll have access to more features)
Volusion has a bit of a history of sub-par customer service, however, they seem to have taken this feedback on board and have been working hard to change this – from what I can see, things have infinitely improved in 2013
Volusion Pricing Plans
Pricing for Volusion starts at just $15/month for up to 100 products, and with 1GB in bandwidth – there are four other options at $35, $65, $125 and $195 per month, all with increasing product allowance and bandwidth as well as other benefits like priority support, account management, Amazon & eBay integration, deal of the day functionality, CRM, newsletters, ratings and reviews, analytics reporting etc. Check the plans out here, or sign up for their free 14-day trial.