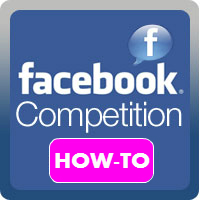 Want to get in on the Facebook competition action and increase your Facebook community? Here are the 8 key considerations you need to make to pull off a successful Facebook competition campaign:
1.       The application
The first thing you have to establish when going down the track of running a Facebook competition is the application itself. You cannot run a Facebook competition via your wall (contrary to what many people think) as this is in direct contravention of Facebook's promotion guidelines. You must use an application to facilitate the entry and gain the entrants' details. How do you create this application? You have a few options. The first is to use a third-party service like Shortstack, which provides a whole range of templates and widgets for you to easily put together your competition without writing a line of code.
The second option is to get someone else to put your application together – either a developer who can write code or a person who may use a service like Shortstack to do it for you. If your competition is complex and involves a lot of moving parts, you can expect to need a developer, and it may cost in the thousands to develop. If you just want a simple "like this page and tell us in 25 words or less…" competition or even one that involves uploading and sharing of photos, then someone like me can put this together from about $400 (or you can go to your agency, but they are likely to also charge in the thousands, because that's how agencies do.)
2.       The prize
This one is key to the success of your competition. What are you actually offering entrants the chance to win? It doesn't take a genius to figure out the more exclusive and/or expensive your prize is, the more people you will likely get entering, and the more viral exposure you will also get. Also worth considering is the type of people your prize will attract. If it is cash, or a holiday or an electronic device, you are likely to get a very wide range of people because these type of prizes are generally fairly attractive to most people. If your business/service/product appeals to a niche market, try to have a prize that specifically appeals to these people, and thereby reduce the amount of irrelevant people entering your competition and liking your page. The more relevant and appealing you can make your prize, the more successful your competition will be.
3.       The creative
Whether you get someone else to put your application together or do it yourself, you're going to need some creative (images) for the tab. If you are going through someone else, it is likely they will be able to offer to put the design together for you (or outsource to a designer they know). If you are doing it yourself you will need to figure out if you want to put the creative together as well, or if you need to find a designer who can do this for you.
staTypically these images are fairly straightforward. Things to include – a call to action to like the page, your branding, a brief description of the prize and how to enter. You might also like to include when entries close to create the sense of urgency. It isn't rocket science, but at the same time you want the creative to look legitimate, if it is obviously a homemade job it may put some people off entering.
4.       The terms and conditions
This one is important. Make sure you have the terms and conditions available for entrants to read through. You can find templates for this on the internet or simply by looking at other Facebook competitions. There are some key terms Facebook requires you to include, and you need to tell people about who you are, what the prize is, what the entry mechanism is and how the competition will be judged.  Again, if you have someone putting together your application, the chances are they can provide you with a template for the terms and conditions.
5.       The entry mechanic
What is your entry mechanic? Do people need to upload a photo, caption a photo, tell you in 25 words or less about something or simply provide their email? Do they have to like your page first to enter the competition? Think carefully about what you want to make people do to enter your competition. And be careful how much this involves Facebook, because contrary to what so many businesses are doing right now, you are not allowed to require people to like or share a post or photo to be in the running. The only thing you can do is make them like your page, but you cannot condition their entry on any other engagement with your Facebook page other than to interact with your application.
The more simple your entry mechanic is, the more people you will have enter. Also to keep in mind is the regulation in your state/country – for example in Australia if your competition winner is decided by a random draw, you will likely need permit numbers In many states, which involves paperwork and the payment of some small fees. You can get around this by making the competition a 'game of skill', which means the competition will be judged on the basis of a number of factors like originality, creativity etc.
6.       The data
What data do you want to collect from your entrants, and how will you use it? You have to tell people how their data will be used, whether it is just for the purposes of the competition or if you are essentially signing them up to your newsletter or for any other purpose moving forward. You need to get contact information (eg. Email) as you are not allowed to contact winners via Facebook. You may also want to get further details of entrants, like where they live, how old they are or any other interesting demographic details, however be aware the more information you ask for, the fewer people you will likely have enter. The simpler your entry form, the more entrants.
7.       The promotion
How are you going to promote your competition? Simply creating a competition will not get people to enter, you need to tell people about it. Ideas for promotion include posting to your Facebook wall (duh!), sending an EDM to your database, promoting via Facebook ads and advertising the competition on your website. These are just a few ideas, but the more channels you use, the more entrants you are going to get. Also keep in mind opportunities for viral exposure, you can include elements in your competition that encourage entrants to share their entries or just the competition itself, so make sure this functionality is included and try to provide an incentive for people to do so (eg. extra entries).
8.       The follow-up
Once the competition has been run, you need to have a strategy for drawing or judging the winner and contacting them. You may choose to inform your Facebook community of the winner (though be careful how much information you reveal here, as communities can get very feisty if you provide the winning entry and they believe theirs to be better!) and you could also write a story about it in your next email newsletter.
Something else to think about is how you want to engage with your Facebook community moving forward now that it has (hopefully) grown substantially. Don't attract a whole heap of new followers and then do nothing – use the opportunity to the fullest to promote your business, provide excellent customer service and increase engagement on your site.
After managing countless Facebook competitions over the years these are what I believe to be the top considerations to running a successful Facebook competition. If I've missed anything please feel free to suggest more in the comments below. Also if anyone would like any further information or has any questions, please don't hesitate to get in touch with me via email, Facebook or Twitter