Why Your Career May Depend on Your Social Media Profiles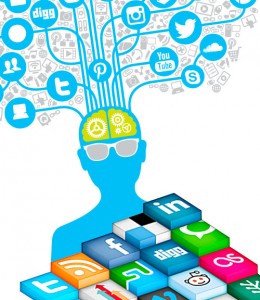 The days of separating your social life and your career are long gone. Whilst online platforms like Facebook, Twitter and Pinterest may be great for sharing status updates and (sometimes dodgy) photos with your groups of friends, they are now also an important tool when it comes to not only finding a job, but also ensuring that you don't get on the wrong side of your employer when you already have one. We all know that Facebook can get you fired, but it can also ruin your chances of ever being considered for a role in the first place.
It's so easy nowadays for an employer to find out absolutely everything about you just by carrying out a few quick searches. If you don't believe me, try it yourself! Put your name into Google and see how many results come back that are something to do with you. If you have a less common name, this is likely to be even more than the average person! Either way, it's important that you manage the results that show on search engines to ensure nothing which could incriminate you to your current or prospective employers in any way.
Of course, managing your social profiles in the correct way can have positive benefits for your career too. So if you think you online presence needs a tidy up, or perhaps you aren't even on social media at all, read on for some tips on how to use social media to improve your career.
Using Social Media to Your Advantage
For those who are looking to find a new job or even their first ever job, making sure that your social profiles are created in a professional yet interesting manner can potentially give you an advantage over other candidates. Use each profile that you have set up for a slightly different purpose to show off the different sides of your personality.
An article on Mashable showed that over 40% of companies considered job candidates after seeking them out on social media, and this figure is growing all the time. It also showed some of the things which were met with negativity, such as having pictures of drug use (83% of companies) swearing in your posts (65%) and alcohol consumption (47%).
In the same article it showed that things like your volunteering work has a positive reaction, with 65% of employers liking this, whilst doing things like running a blog and taking part in industry discussions by using your social media profiles is also likely to result in positive feedback.
Creating Your Own Brand
More and more companies are using their findings of employees and prospects social media for help with recruitment, as well as for help with online HR and the monitoring of staff. As mentioned above, it's important that you don't have any statuses or pictures which your potential or current employer could find offensive.
Yet, believe it or not, there are social media platforms which can complement your working life. LinkedIn is the obvious choice from a professional perspective, but there are others which you can adapt to become relevant to your career. For example, Pinterest is typically a very image-led platform, yet it could be used to build an alternative-style CV, or to demonstrate examples of your best work down the years. This means that your employer can see another side to your personality from what they usually see (also useful if applying for job roles).
Twitter is a must for those who want to network with those in their industry, whilst About.me is another which allows you to host an online business card which links all of your social profiles together.
LinkedIn is an obvious one that is tailored to your professional profile, so I'm sure I don't need to highlight the importance of getting this right – but it's important to think about all these other platforms too. You want to make sure your online profiles are presenting the right image across the board and not putting potential employers off!
How To Make The Best Impression
So what do you do to make sure your online presence isn't working against you? Clean up your current social media profiles and make sure you limit swearing, party pics or any other inappropriate public conversation in the future. If there is something coming up in your Google search results that is not from your own social profiles and that you want removed it can be a lot more difficult, though a landmark ruling in the European Court of Justice now requires Google to consider requests from European residents for removal of content relating to them for privacy issues. In just the first week Google received over 40k requests – it's not yet known how successful this has been for those requesting it but the best thing to do is try to prevent this type of content ever getting out there in the first place.
It's no secret that social media is making a huge difference to the way in which we are all perceived – even those who abstain from this world are judged for that decision! The key is to make sure that the impression you are giving via these channels is not one that would be negatively received by potential and/or current employers (not to mention your own family and friends).
Have you ever been impacted by an employer who was snooping on your social profiles? Or have you done this to potential or current staff?