4
What's the latest skinny in facebook-land?
It's entirely mind blowing how much can change in the world of Facebook within two weeks. Since my last update post, here is a list of things that have been tweaked, updated, introduced, revoked, trialled and changed in your facie-bee profile:

Facebook questions – now you can easily find out what you should eat for dinner by polling your facebook friends.  Even better, the poll will show up on your friends' feeds, visible to all of their friends, and so it can basically go viral. Before you know it you'll be cooking spag bol thanks to the recommendation of 1,423 people.  It's pretty cool and you have probably seen it because over the past week or so people have been going crazy with this feature… and rightly so, because everybody likes polls.  If you've missed the boat, head to www.facebook.com/questions and install it now.
Read more: http://www.readwriteweb.com/archives/facebook_questions_goes_where_quora_cant.php?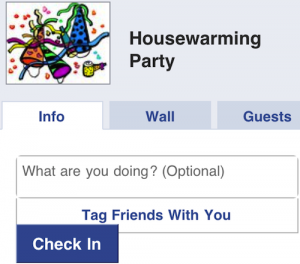 Check-in to your facebook events – hurrah! Just as we were getting sick of checking in to every conceivable venue that we even just passed on our way to work (not to mention certain offenders checking in to places like 'bed' – kill yourselves!) Zuckers has kindly now given us the option to check-in to our events. Using the facebook touch site (and now through the updated iPhone app), you will be given the option to 'check-in' when you are within the vicinity of the address listed for any facebook event you have RSVP'd to.  This is an even better way to prove your popularity, as you are not just broadcasting to the world that you are at some funky venue, but that you are even cooler because you were invited there. As part of an EVENT. Wow.
Read more: http://www.insidefacebook.com/2011/03/21/check-in-events/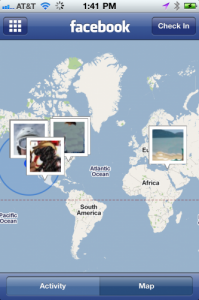 Places map shows where your friends are, on a world map – just in case you weren't sure exactly where 'Ivy Pool Bar' or 'Mac Tav' were, you can now use this map to better stalk any unsuspecting facebook friends who have tried to assert their coolness by checking in to some lame location.  This wonderful map displays where all your friends are, relative to you. It's positively stalkerific! Nice one Zuckers!
Read more: http://www.insidefacebook.com/2011/04/04/facebooks-new-iphone-app-adds-map-view-of-friends-locations-check-ins-for-events/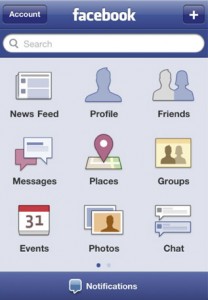 Facebook iPhone update – if any of you are like me (let's hope you're not), you probably wait until you have about 35 pending app updates before you bother to check them out.  Generally you expect they are going to be completely uninteresting, but on those rare occasions that one of your few useful applications have offered an update, it's probably akin to finding a fiver down the back of your couch.  Let's not kid ourselves when we say Facebook is the king of this lost lounge fiver. In fact it's probably more like finding a tenner, even.  So imagine our delight to see the latest facebook app update for the iPhone – it's been almost half a year since the last one.  Features include: added map view for places (see above), added ability to check in to events (see above), added ability to unfriend from phone (thank god), improved news feed and improved notifications.  Download it NOW. YAY!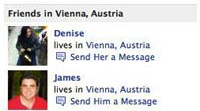 Facebook to help you catch up with friends in strange cities – Facebook has been trialling a 'Friends in [City]' sidebar that displays when you are visiting a location other than that listed as your hometown.  Another reason that facebook doesn't make us less social!
Read more: http://www.insidefacebook.com/2011/04/04/nearbyfriends-in-city/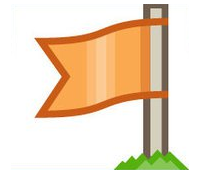 You can now convert your profile into a page – this is a great one for any businesses, groups or personalities who started up a facebook profile back in the days before pages were introduced. Or if they were just so facebook retarded they didn't know what they were doing.  Facebook has solved the problem by allowing you to switch over.  This is great news, because judging by my increasing fame, I'm clearly going to need to switch to a page pretty soon. Anyway it was reported they disabled the ability soon after introducing it, but it seems that it was just a few teething problems and it's back in business now.
Read more: http://www.allfacebook.com/facebook-profiles-can-now-convert-into-pages-2011-03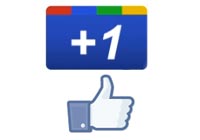 Google taking on the facebook like – so Google in their never-ending quest to try and claw back digital dominance from zuckers has announced the introduction of a +1 button for online content.  This will go head-to-head with the facebook like button, and presumably influence search rankings.  Expect to see this featuring in the google-sphere sometime soon.
Read more: http://www.allfacebook.com/can-googles-plus-one-take-on-the-facebook-like-2011-03
That's it for now, but expect a further 19023980 changes in my next update. Thanks zuckers for making it a full-time job to keep up to date about your crappy social network! [note: I completely retract preceding 'crappy' reference!!]