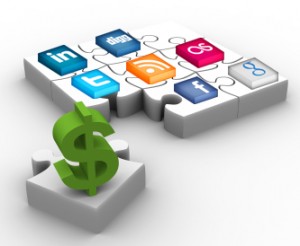 Pre-recorded webinar + email support (ie. send any questions or feedback you like!)
PURCHASE NOW>>
Implementing interesting campaigns and getting current or potential customers to interact with your business if it's in the financial services industry can be a little trickier than – say – if it was the travel or retail industry. Financial Services just isn't that exciting, and most people want to avoid thinking about businesses in this industry as much as possible – let alone speaking to them! Or so most people working in the field tend to think. The reality is that there are huge opportunities to leverage Facebook, Twitter, LinkedIn and other networks to drive interest, interaction, referrals and even sales for businesses in this industry – like credit unions, banks, credit card companies, insurance companies, consumer finance companies, stock brokerages and investment funds.
This 1.5hr webinar will help you understand these opportunities, give you some actionable tips to setting up a successful social media strategy for your business as well as provide some examples of successful campaigns and strategies by other businesses in this sector.
Testimonials
Hi Cara
Just wanted to let you know how much I appreciated your straightforward delivery of the financial services social media webinar. It was great and I loved the overview of the case studies, you gave me plenty of food for thought for our insurance brokerage and I look forward to actioning some ideas.
Cheers
Kellie (AU)
Longfellows Insurance Brokers
Cara,
Just did your strategy webinar and must say it was pretty damn good!
Post 15 years in finance in Oz and the UK I am in the process of a complete career reboot and am starting up a new business providing digital marketing services (specifically email, social and strategy) to local and small businesses in South West London. Over the last 3 months I have devoured a shedload of content and dusted off some old marketing textbboks (Uni of Newcastle, almost went to the Gong!) and your content on strategy is the best and most useful I have found.
Thanks very much – i'll be sure to keep a keen eye on your blog.
– Mark, Grow with Digital (UK)
Finally had a few minutes to watch this webinar and wanted to tell you how fantastic it was. I am the Social Media Director for an Internet Start-up called www.BallooningNesteggs.com. I knew nothing when I started doing it 10 months ago and now I'm looking into branching out and becoming a Social Media consultant. Your webinar gave me some great insights and starting points. Thank you for such a great webinar.

– Dorothy F (USA)
Why should I pay for a webinar?
Excellent question. There are a few reasons why paid webinars are typically better than free ones:
I'm not selling anything, so the whole webinar is not a big sales pitch or teaser
The content is 100% practical, actionable and helpful – you absolutely will have takeaways that you can implement straight away
By taking your money I am under pressure to deliver the highest quality webinar – if it was free your expectations would be lower and I wouldn't feel as obligated to provide value
The focus is on quality, not quantity. I don't want to build up a database of people to market to in the future, I just want to help people get better at social media.
NOTE: to see a full list of upcoming Social Skinny social media webinars, visit the Social Media Events & Training Page.
How to use Social Media in the Financial Services Industry
Description:
The pros and cons of using social media in the Financial Services Industry
The current state of social media in the industry
Five effective strategies to implement to drive engagement, referrals and sales
Case studies of  Financial Services brands using social media effectively
How to get your current customers engaging with you online
Purchase Now: