How to become a social media expert | Webinar
Pre-recorded webinar + email support (ie. send any questions or feedback you like!)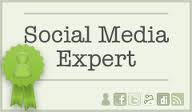 Why become a social media expert?
The demand at the moment far outstrips supply.
Every company is realising that they need to be doing social media, and they are all scrambling to find the right people to fulfil that need. Agencies are hiring scores and scores of people to look after the social media for their clients. If you know social media and follow a few simple steps, you won't need to apply for jobs anymore – they will come to you.
There is no requirement for qualifications.
At this stage there are very few people that have specific social media qualifications. Degrees and education always help in obtaining a job, but in this case people with experience and knowledge will always win out, simply because there are so few available. It's an opportunity you can take advantage of without having to spend years and thousands obtaining a degree.
It's an interesting and fast-paced job
The space is always changing and it's always exciting. Whether you're looking at Facebook campaigns, social advertising, gamification, augmented reality, iPhone apps…. There are so many different areas to learn about and social media is only getting bigger, so you'll always have a job.
The opportunity is unparalleled.
These factors combine to make social media one of the greatest (if not the greatest) opportunity of all time to get in the game quickly, easily and earn a lot of money in the process. Corporates and agencies are willing to pay over $100k to get good people into these positions.
According to Live Salary, the median base salary for social media management roles in Sydney is $95,000.
How can I help?
I've taken the journey myself over the past few years. I got into it half by chance (half by good decision-making and unparalleled smarts ;)) and I know you can do it too. It won't take long to know if you're good at it, if you're interested in it – and if you tick those two boxes it won't take long to get a job in social media.
I genuinely believe that the opportunity is there for others to capitalise on the current demand, without having to do years at University or spending 6 months as an unpaid intern. I'm not saying you can become a social media expert overnight, you can't. But implement a few simple actions over a period of 3-6 months (while you are still working at your other job) and you have a good chance of getting there.
And the best thing? I'll have someone to put forward for the social media roles I'm approached about. A win for everyone!

Testimonials
I thought it was great! I am trying to come up to the curve because my company is branching into social media, and even though I have Facebook and Linkedin (and have for years), it's not the same. So the webinar was helpful. For me, the first 7 tips will be the most useful since I'm not planning on being an entrepreneurial social media expert.
I added my email address to your mailing list. I think that The Social Skinny is the best fit for me that I have found on the subject.
– Melanie G (USA)
Finally had a few minutes to watch this webinar and wanted to tell you how fantastic it was.  I am the Social Media Director for an Internet Start-up called www.BallooningNesteggs.com.  I knew nothing when I started doing it 10 months ago and now I'm looking into branching out and becoming a Social Media consultant.  Your webinar gave me some great insights and starting points.  Thank you for such a great webinar.

– Dorothy F (USA)
Hi Cara – I am the social media manager for the Stay at Home Mum website (www.stayathomemum.net.au) – I just wanted to say thanks for a great webinar! I got loads out of it (I haven't been doing SMM for long so needed some great tips and advice!) – and it was also good to know that I am on the right track with everything. I will keep an eye on your website for more webinars. Thanks again!
– Nicole (AU)
Hi Cara
I bought the Social Media Expert webinar a couple of weeks ago and really loved it. I am setting up a business doing SEO for restaurants so I have a twofold reason for trying to ramp up quickly on social media – firstly to promote my business but also because I think social media services would be a great fit as another service for me to offer. I veer between thinking it'll be great and then having 'I know nothing' panics!! I found your webinar really reassuring and it has given me some great strategies for building up my knowledge and standing.
– Lucy (UK)
Hi Cara,
I recently purchased the above Webinar off your website and have got to tell you it is fantastic. It inspired me to today purchase your other offering How To Write A Comprehensive Social Media Strategy which I am listening to as I write this. I just had a couple of questions [questions omitted]
– Glenn
Hi Cara,
I finally got around to watching you webinar… it was so good and I 100% now know that I am heading the right direction.
Its hard as I am so busy with my "traditional marketing" position that you lose sight of what you really want to achieve. In my role I do a far bit of social media but after watching your webinar, there is just so much more potential and opportunity.
– Rachael (AU)
Hi Cara,        
Your Webinar was what I needed to make sense of the many forms of SM, you laid them out in a easy to understand format with no fluff, just pure content. I was blind but now I can see, thank you money well spent.
Kind Regards,  Scott Shaw (TAS, AU)
How to become a social media expert
Description:
What this course covers:
– What exactly is a social media expert/specialist/manager/strategist
– A bit about the roles you can get, what they are paid, the good, the bad and the ugly (will you want to do it?)
– 10 practical action-items to implement straight away to get you on your way
– What employers are looking for and what you should include in your resume/cover letter
– How to stay on top of social media news and effectively be a real 'expert'
– How to prove to others that you know what you're talking about
– The answers to any questions you might have.
If you've ever wanted to get paid to play on Facebook and have others contact you about jobs (that pay a lot of money) it's worth spending $45 and 1.5 hours of your time with this course. It might just change your life.