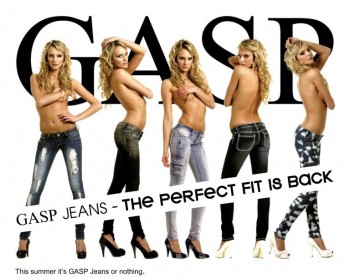 Don't quote me on this, but I'm pretty certain this latest customer service shame story about #Gasp jeans is a social media stunt. It's just too difficult to believe that it could actually be true. I mean the behaviour of the shop assistant, sure. But the email? Doubtful.
If you haven't heard about it yet, basically the run down is: Keara O'Neil went to a Victorian Gasp store with three bridesmaids only to be confronted by an extremely aggressive and downright rude shop assistant "Chris". Keara then wrote the following email to management of the brand:
I had the privilege of shopping at your brand new Chapel St store on Saturday 24th September with my three bridesmaids in tow. On the hunt for bridesmaids dresses and a hens dress for myself we walked into the store and were automatically pounced on by a male staff member, I understand that this is protocol for many retail outlets and ours is no different.
The staff member was initially funny and extremely helpful with sizes etc. I chose a bright pink dress to try on but was unable to do the zip up so asked for the size up, when I eventually got the correct size and came out of the change room I was unable to discuss the likes or dislikes of the dress with my bridesmaids as the sales assistant kept saying "you should just get it", when I told him I would think about it, he pulled me aside and whispered "Is it the price your worried about". By now I was extremely frustrated, and again told him I'd think about it, I walked back into the change room and closed the door behind me, only to have it pushed open with the sales assistant half standing in my change room, again whispering "I think you should just get it", when I gave him attitude and said rudely, "I already told you I would think about it", he then replied, "With your figure I really think you should buy it".
I'm not sure exactly what he meant by that, but considering the attitude used to deliver such a statement I can only imagine that it was an immature dig in relation to my healthy size 12 frame. I got changed in a hurry and walked right out of the change rooms and out of the store, I could hear the sales assistant yelling out to me, but I just ignored him and continued to leave, assuming my bridesmaids would follow. After waiting down the road for my bridesmaids to come out of the store I was told by one of them that the sales assistant yelled out "Have fun finding something at Supre", when one of them approached him in regards to his comments, he replied "I knew you girls were a joke the minute you walked in". When my bridesmaids walked out of the store another two customers walked out with them, they too could not believe the immaturity of the sales assistant.
I have worked in retail for 12 years and have come across an array of customer complaints over the years, none of which come even close to what I encountered on Saturday at your store, I wish I was exaggerating but unfortunately for your company this person actually exists and is working in one of your stores. I am pretty laid back and was quite happy just leaving your store, it was my bridesmaids who felt the need to say something to him………I dread to think how many customers he has not only offended but how many customers have left your store due to the pressure placed on getting the sale, and then to be harassed when that sale hasn't taken place.
Ring me, don't ring, not fussed………I'm just one retailer notifying another of an extremely inappropriate sales assistant.
Keara O'Neil
The service itself is shocking – no doubt. But the response that Gasp management came back with was even more jaw-dropping:
Dear Keara O'Neil,
Having now had the privilege of having both version of events, I am now in a position to respond to your complaint.
From the very outset, one thing that you should be mindful of is; Our product offerings are very, very carefully selected, so to ensure that we do not appeal to a broad customer base. This is something which is always at the forefront of our minds when undertaking buying duties.
The reason for this is to ensure that we only carry products which appeal to a very fashion forward consumer. This by default means that the customer whom is acclimatised to buying from "clothing for the masses" type retailers, is almost frightened by our range, sometimes we have found that this type of customer, almost finds our dresses funny, and on occasion noted comments such as 'it looks like a dead flamingo'. When we receive comments like this, we like to give ourselves and our buyers, a big pat on the back, because we know we are doing our job right, and modus operandi is being upheld.
Our range is worn by A list celebrities to the likes of Kim Kardashian, Selena Gomez and Katy Perry to name only a few. Now, as one might appreciate, the style counsel for these types of celebrities are not ones to pick "run of the mill" type clothing, and they do so on the basis to ensure that the styles are cutting edge, and only worn by a select few. Similarly these items are priced such that they remain inaccessible to the undesirable.
Insofar as our employee goes; Similar to our product offerings, our employees are selected with a similar approach. Chris whom served you is a qualified stylist whom has a sixth sense for fashion, and Chris's only problem is that he is too good at what he does, and as I am sure you are aware, people whom are talented, generally do not tolerate having their time wasted, which is the reason you were provoked to leave the store.
Whilst I concede that you work for chain retailer, unfortunately that does not make us like for like. It is probably fair to assume, a lot of what I have said in this email, either doesn't make sense to you, or you totally disagree with it all, which is what I would expect (unless of course I have you totally wrong – which I doubt).
Let me guess, you would never, ever hire Chris in the course of your duty, would you? This is the very reason, why your comment "from one retailer to another" is so disproportionate, it's almost as though we are in a totally different industries. Chris is a retail superstar, who possess unparalleled ability, and I am sorry you feel upset by him, but he knew you were not going to buy anything before you even left your house.
So if you would like to do us any favours, please do not waste our retail staff's time, because as you have already seen, they will not tolerate it. I am sure there are plenty of shops that appease your taste, so I respectfully ask that you side step our store during future window shopping expeditions.
Thank you for your enquiry.
Online Customer Care
Now I don't know about you but to me that sounds overly PR stunty. Not only have they managed to be so over-the-top rude and obnoxious that there is basically NO CHANCE this wouldn't go viral, but I just love the consistent themes of 'exclusive' 'elite' 'celebrity' that is weaved throughout the whole thing. It's like a marketing 'genius' decided their USP would be "hot, sexy, unobtainable and we know it." With some brand values like "catty, exclusive and downright rude". They've decided their products are for the self-involved, narcissistic drama queen and set their brand voice to match. What better way to get the word out about their brand – for free – than pull this sort of stunt?
Granted, it's risky, and they are going to receive a tonne of backlash, but think about it – will their sales increase or decrease as a result? Even if this isn't a stunt, the question needs to be asked – has it been a successful strategy? My guess is that traffic to their website has rocketed  – they now have a "Dear customers, due to an unexpected surge in online orders, there will be a 48 hour delay in despatching orders. Thank you for your patience." message boldly displayed on their website homepage. A public F*(& you to everyone calling for their retail head? Or a natural response to receiving lots of orders? My guess is a bit of both.
People can act outraged all they like, but the truth is how many people when faced with a dress they love at a price they are happy with, would not buy it because some bitchy sales assistant called someone else fat? If it was your friend, sure. But the truth is most of us would put our fashion above others' feelings. And looking at their products, there is every chance the kind've people who want to wear those dresses, would be the very ones that probably find Chris' behaviour funny. Some of these micro-slinky dresses can only be imagined hanging off an orange fake-tanned fake-fingernailed bimbo who would probably enjoy a nice bitch session with Chris out on the town, ironically calling others' skanks and bitches (but missing the irony completely).
You can't pay for the exposure Gasp has gotten from all of this. All national papers have reported on it, and it's even received a fair amount of attention internationally. Countless celebrities have tweeted about it. Everyone knows the Gasp brand now, and how many of us knew they even existed beforehand? Not me. I wanted to know what the fuss was about, so I went to their website. And to be fair, I thought some of their clothes were nice. Am I in the market for a $400 dress at the moment? Hell no. But if I was and I saw the perfect one, chances are I'd put my consumer outrage to the side and click that little 'order' button.
Whether or not Gasp is the very worst example of customer service, or they have decided to take a huge PR gamble by pulling off this stunt I am sure we will eventually come to know – but either way I suggest that it has probably worked in their favour. All those outraged customers who are so vocally conveying their disgust would most likely not have purchased any of those dresses anyway. As their manager so eloquently outlines – it's not everyone who is attracted by what they have to offer. And my gut feeling is they have attracted the attention of a lot of this 'special' group.
What do you think? Are you vowing to never shop at Gasp as long as you live? Or would you still purchase something from a store that was renown for awful service if it was exactly what you were looking for?