1
Social Media and Other Tips for New Small Businesses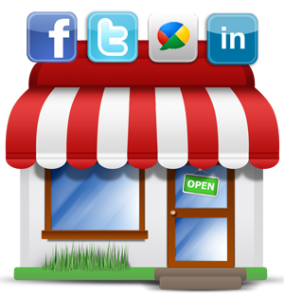 Let's face it: Hard times are ahead for you if you've just started running a new small business. So many variables can affect whether your fledgling business succeeds or fails. Having a savvy marketing plan, however, can give you a decisive edge and social media is an easy and affordable option if you do it right.
So without further ado, here are some tips for running social media for your shiny new business, along with a few other tips that should help you out as well.
Quick Tips for Any Small Business Just Starting Out
Build a security blanket by putting away as much as you can in that old piggy bank before opening your doors.
Always have a business plan in motion, no matter how short. Especially on how you're going to make a profit and keep a competitive edge in your market.
Put EVERYTHING in writing.
A company is defined by the people who work there. Hold on to good people and weed out the bad, the ones who drain not just company productivity or efficiency but morale and work environment.
Make sure you are aware of the legality of your employees.
You will accumulate debt and you will not be immune to accidents or disasters. Protect your personal and business assets by insuring your office space appropriately by visiting providers like the ones at homeinsurance.com.
Have a sound social media and regular marketing strategy.
So…Why Use Social Media for my Small Business?
Your customers all want the same thing — to feel good about what they buy.
If they can walk into a coffee shop where the person behind the bar knows their name and order, or a clothing store where the attendant knows their size and fit right away, they're more likely to return and give you their loyalty than to a large corporation where they're just another shopper getting lost in the muck. Yes, customers want to feel special and pampered and like they're getting their money's worth, but they also will spend more and return to a business when they feel good about the people they are buying from.
When your brand has a personality and a character they can associate with, it's like getting a cup of coffee from their good neighbor Tom or shopping in their best friend Kate's closet. Association is everything. And it's hard to associate your brand with anything other than "sell, sell, sell!" simply with emailing, newspaper ads, tv commercials, and store-front signs.
The key to utilizing social media to your benefit is thus: Stop being so selfish.
Stop talking about your sales, your products, your needs from customers.
Welcome to a different kind of marketing, one that isn't about telling customers what you do, but who you are. Think of your brand as a person. Call him Joe. Post pictures Joe would catch on the street and think are interesting, blast from events Joe would be seen going to, and then maybe slip in things Joe would be seen wearing, doing, buying. There's your in.
Or maybe YOU are your brand's personality, so be real and relatable. You're like the new kid at school trying to make friends.
Remember: Just because you aren't pitching a sale or talking about your store initially, does not mean you aren't promoting your brand. Save the sales pitch for your ads and commercials. Social Media is about connecting. People cannot form a relationship with a product, people form connections and relationships only with other people.
For those of you who say the proof is in the pudding, then let's look at the numbers, shall we?
The Pudding (It's Where You'll Find the Proof)
Traffic
After receiving a 1000 Facebook likes, businesses receive a 158% increase in web traffic and businesses with 51+ Twitter followers gain 106% more web traffic than those with 25 followers.
Purchasing
Based on a 2013 Vision Critical Survey, it was reported overall 4 in 10 social media users purchase an item after sharing it or favoriting it on Twitter, Facebook, or Pinterest. Further still, 29% of people who shared or favorited an item on Facebook proceeded to purchase the item within 24 hours. Even between 1-3 weeks later, customers were still buying something they had seen and liked on Facebook at a steady 29%.
It also appears that Social Media doesn't just drive online sales, but in-store sales as well and at comparable rate. After sharing or favoriting something via Twitter, 17% were driven to purchase the item in-store while 18% were driven to purchase the item online.
Pinterest is also the most likely to drive spontaneous purchasing, as 47% of Pinterest users just "happened upon" an item online before deciding to make the purchase, while only 28% were actually looking for a particular item.
Acquiring Customers
With 75% of 18-34 year old social media users checking their Facebook several times a day, it's not hard to see how 42% of businesses acquire customers through this platform. Even more so, 57% have acquired customers via LinkedIn's networking channels, and 48% via Twitter.
Social Media, You're Doing It Wrong!
Here's how to NOT look like a total goober online:
Avoid having grammar and spelling mistakes.
Never asking your customers on that "first date." Think of it as online dating, you're only a virtual entity and not a real person if you never physically engage with your customers. Set up events or meet ups with your customers for some old fashioned human interaction.
Don't be "friends" with someone or some other company who could potentially negatively impact the respect or value of your brand. As in real life, choose your friends wisely.
Obviously, avoid being offensive or inappropriate. Or trying too hard to be clever.
Refrain from sharing or blasting at the wrong times, every social media platform has different peak times, and they're different depending on where your followers are located and the lifestyle they're leading. Find your peak time.
Always use your social media as a way to reach out for better customer service. Nearly 50% of online customers expect businesses to reach out to provide customer service on platforms like Facebook, but only 23% actually do. Don't fall into that statistic.
Utilize Your Social Media Accounts
When it comes to your social media accounts, being a master of one is better than a master of none. It's easy to become overwhelmed with the plethora of social media platforms out there. There's Google+, LinkedIn, Twitter, Facebook, Instagram, Foursquare, Yelp, Reddit, Pinterest, Vimeo, Vine, Tumblr, StumbleUpon, and Digg to name a few. You don't need to split your focus trying to be everywhere at once. Perhaps it would work better for your small business to build up one avenue with a strong following at a time.
That includes narrowing your goals. Do you want to network, share media, microblog, or be a part of social news? All of the above are better for one of these things than another. So choose wisely to align your platform with your intentions.
Be authentic and keep it light, interesting, and different. Less is almost always more. Updating your twitter once a day is more effective than 5 times a day if that one update is incredibly engaging and interesting. Where possible, give your social media pages that extra pizzaz to grab attention and get noticed. Investing in a talented and smart graphic designer always pays off.
At the end of the day, be patient. Just like making and retaining quality friends, making and retaining quality and loyal customers takes time. Keep your brand voice consistent and don't get discouraged!