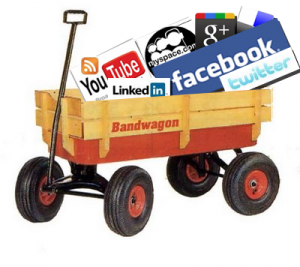 Social Media has literally transformed everything we do, from the way we communicate, interact and meet people, to how we do business, shop, and operate in our daily lives.  The "digital" world we live in is much different from anything society has ever experienced.  Some analysts believe technology is evolving so fast that five years of development today produces more innovation than the last 50 years combined.  Information is exchanged at record rates.  When I was in college, I remember one of my advertising professors saying it takes an average of seven impressions before a consumer recognizes your brand.  Today, with the saturation of Social Media, Internet, satellite radio, and expansion of television networks, that number of impressions is closer to 20.
Many businesses have jumped on the Social Media bandwagon and experienced much success.  However, even Social Media is beginning to get saturated with advertisements, "overposting" and other small annoyances.  Some people claim they are starting to "tune out" many posts from businesses in favor of "social" online interaction with friends.  This growing trend is leaving some businesses who have placed all of their marketing eggs into the Social Media basket wondering why their sales have slowed, while their competitor's sales seem steady.  One possibility could be that the competitors use Social Media as a complement to their traditional marketing strategies, not a replacement.  Twenty impressions are a lot, and diversifying and targeting your marketing efforts not only helps grow your business, but it reinforces your brand, especially in the minds of your Social Media audience.
If you own a business, consider these forms of marketing which complement well with Social Media.
Website
Surprisingly, a lot of businesses choose to forego a website in favor of using a Facebook page.  A Facebook page can be a great complement to a website, which allows for much more function and features.  For instance, with a website, you can expand more on your business, products, services, customers and employees.  You can also take orders, book appointments, create an online store, and perform a multitude of other tasks.  It is important to link all of your Social Media to your website and vice versa.  Your website can also include a blog, which can link directly to some Social Media accounts.
Traditional Public Relations
Positive press and articles help build credibility.  Social Media furthers an article's reach when it is posted and shared.  Together, traditional public relations and Social Media can be powerful marketing tools.
Advertising
The beauty of Social Media is your message spreads directly to the people interested in your products and/or services.  Implemented properly, advertising can expand that reach. Identifying niche markets and opportunities to reach consumers within those markets is invaluable.  Social Media is an excellent complement strategy because it can help capture those who are compelled by the advertisement.  For instance, perhaps I hear a really good radio commercial for a certain product.  While I may not have an immediate use for that product, I am curious enough to visit the website and connect on Facebook. Now that I am connected, the "brand" advertised will be on the forefront of my mind when the need arises.
While Social Media is still exciting, don't discount the power of traditional marketing.  When Social Media and various forms of traditional marketing are strategically used in conjunction with one another, they can produce some pretty impressive and profitable results.
Gina Smith writes freelance articles for magazines, online outlets and publications on behalf of a number of companies, including spanning.com. Smith covers the latest topics in the business, golf, tourism, technology and entertainment industries.