1
So what is happening in Planet Social Media?
Sooo I've been a bit neglectful of my so-called 'weekly' [though I did specify the weekly part was open to loose interpretation by me – ie. I may interpret weekly to mean monthly…] social media update post. Which we all know from past experience is mostly just a facebook update post, because: 1) no one really cares about any other social networks and 2) other social networks are happy to live and let live, whereas Zuckers needs to change everything all the time.  Enjoy.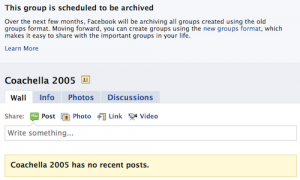 Old groups will be archived – As we all know, Facebook does not like things to stay the same. Everything must be changed, updated, improved, and overhauled approximately every 24.3 days.  EVERYTHING! And what's more they don't like you to use any of the old versions. SO no more old groups. NONE! If you're part of a very select few groups you may be lucky enough to have your group migrated over the new groups. Otherwise, you can upgrade your group but you will lose all your members. So there's probably little point for most of us.  Anyway who uses groups anymore!!
Read more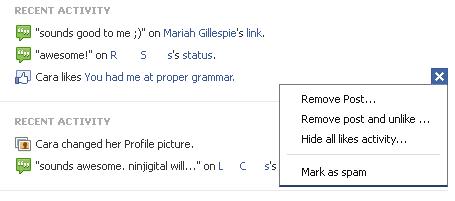 You can now hide posts about certain activities from your wall – Are you one of those infuriating weirdos who likes every single page that you come across? Do you 'friend' every single gumby who requests you? The chances are you are REALLY ANNOYING your facebook friends with useless and boring updates about things that they really couldn't care less about.  Well, that argument could probably be put forward about everything you say or do on facebook, but in particular these activities. WELL, Zuckers has saved the day by allowing you now to hide specific types of posts from your wall.  All you have to do is click the little x button in top right corner and choose 'Hide all  …. Activity. Example above, left. Nice.
Read more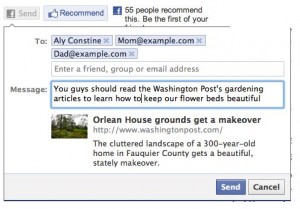 Facebook adds another sharing button, but calls it 'send' – Just in case you weren't content with the 'like' button, the 'share' button, the 'tweet' button and every other conceivable social sharing button there is, Zuckers has come to your resuce with the 'Send' button.  Phew.  Not that anyone cares much yet because it hasn't had a huge take-up so far, but this button lets you share the content with one of your group, send as a message to specific facebook friends or send via email. Whatever!
Read more
Facebook adds more ads to its arsenal – Zuckers is always keen to make more money so it was only a matter of time before even more ads were added to the sponsored stories arsenal.  Now you can advertise in this format when someone likes your page's update, photo or video / when someone uses or plays your app / or when a user likes a piece of your web content (from your website), uses the share button or copies a link into facebook to share with their community.  Expect to see these in an inconvenient place on your facebook feed in the near future. Read more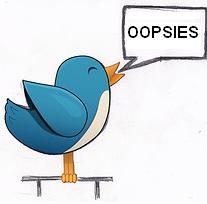 Insurer offers Tweet Insurance – This one was just hilarious – a London insurer is now offering tweet insurance should your brand be adversely affected by a rogue or unfortunate tweet.  We all know a few companies that could have used this one (touch wood).
Read more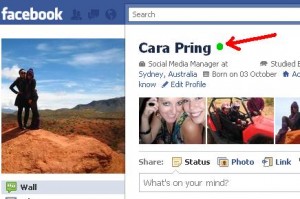 Facebook adds online status indicator to profiles – I haven't yet seen this yet (though I've noticed it comes up if you're in messages – probably because messages has now been integrated with chat [if you've got the upgraded messages] but this is besides the point) but apparently we have this feature to look forward to.  Sometime in the near future you will be facebook stalking a friend and voila all of a sudden you will realise that they are in fact online! I don't really know why anyone cares that much because if you want to chat to anyone you'll be online and be able to see everyone else who is also online, but WHATEVER.
Read more
The end.
PS> don't forget if you want to get the latest social updates IN planet social, check out and like The Social Skinny facebook page