Smartphones: The New Advertising Target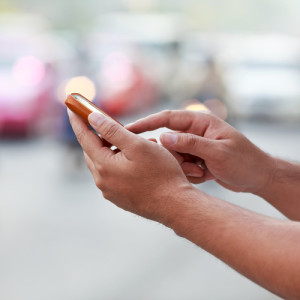 Advertising on social media is a given in today's business world and will continue to grow, according to eMarketer, which says digital ads will drive an increase in advertising spent in the U.S. and worldwide. Its research forecasts digital marketing will increase by almost 17 percent, contributing more than 25 percent of all advertising dollars for the first time. Mobile ads will be the key driver and is expected to grow a whopping 84.7 percent worldwide. Mature markets, like in the U.S., will see mobile ad growth jump by almost 68 percent by 2018.
Mobile Ads from Local Retailers Resonate with Shoppers
Retail shoppers will visit a local store from whom they receive a mobile ad on their phones, according to the research firm JiWire. One brand it surveyed said shoppers who received a mobile ad increased their store visits by 32 percent. Visits from randomly selected shoppers went up 57 percent after mobile ads went out. Location data, says JiWire's president David Staas, made the difference. "It is not just about counting the total visits to the store," Staas says, "it is about demonstrating a noticeable increase of in-store visits after exposure to the mobile advertisement."
Mobile Ad Challenges and Solutions for Small Businesses
Small businesses historically have lagged behind technology trends given the initial costs for the latest and greatest gadgets and tools. Many eschewed buying smartphones for employees who traveled, preferring instead to simply pay for individual phone bills rather than get locked into a plan designed for a multinational firm. This situation, thankfully, is evolving to be more friendly toward small businesses.
"It is hard enough to run a small business," a T-Mobile executive admitted to the Small Business Week San Francisco conference in 2013. "We have cancelled our membership in the clueless carrier club." Mobile carriers now offer services specially designed for the small businesses market.
The advertising market, though, has always been a bit more nimble. StreetFight, an online magazine that promotes hyperlocal marketing, lists a few businesses that provide mobile ad opportunities for very small businesses:
Adagogo runs ads on local news, sports and weather apps
Moasis sends flyers to local smartphones
DropIn, similar to Adagogo, is a platform that ties into Facebook business pages
Promote creates landing pages for mobile devices
Coupons Could Be a Huge Driver in Mobile Advertising
Above all, give the people what they want, advises Catalina, which says it has the world's largest shopper history database. People want coupons they can organize and store, and that don't slow down the shopping experience. Catalina spoke with 1,000 smartphone owners who identified themselves as the main shopper in their households. More than half used at least 16 coupons in the previous six months, and two-thirds already used their smartphones during shopping.
However, many found that mobile apps slowed down shopping and checkout, and didn't offer particularly useful coupons. Almost 30 percent said they didn't even bother with coupon apps. Catalina says the ideal mobile shopping experience alerts shoppers when they are near a product for which they have a coupon stored in the phone or app. The technology already exists for this; Android first offered its MeetMoiNow dating app that alerted users to potential matches in the vicinity in 2010. A BuyMeHere! app can't be all that complicated, could it?