Big news last week was that Facebook rolled out Facebook Offers (still in beta testing) to five countries – Australia, New Zealand, Singapore, Japan and Turkey. Below is a short overview of what Facebook Offers are, how they work, and how you can set one up in a couple of minutes.


What are Facebook Offers?
First of all, let me clarify that Facebook Offers are completely free to set up and redeem. There are no costs on either side. Hurrah! Facebook offers are essentially coupons that you can offer to Facebook users that appear on newsfeeds (desktop and mobile) and through wall posts that can be promoted as sponsored stories (ads). When people redeem the special offer they are prompted to share that story on their wall so that their friends can also take advantage of it (plus get you some much-appreciated viral spread).
At this point they are only available to bricks and mortar stores – that is Facebook place pages. If you have an address on your Page so that people can check-in, you have access to offers (if you're in one of the countries trialling it). Once someone claims your offer within Facebook they are sent an email with the details to redeem within your store.


How do you set up a Facebook Offer?
Excellent question! I was not sure of this myself before I did some research – mainly because it actually isn't available for my Social Skinny Page given I don't have a place attached to it. If your page is eligible (ie. you're in one of the beta testing countries and you are a place page), you can set it up following these easy steps:
1. Go to your Page (DUH)
2. Below your status bar, click the 'Offer, Event +' image


3. Fill out the fields as required – including your image, your offer itself, the date the offer expires and any terms and conditions you need to include. You can also limit the number of people who can claim the deal.
4. Click preview, check that it all looks good and then post!
It really is that easy, but just in case you are confused, you can watch a step by step video put together by Facebook on how to set up your own Facebook Offer.


What do Facebook Offers look like in action?
Quite handily Target Australia have put their own offer out via their Facebook Page today, so they are the lucky ones that get to be made famous on this post. This is the step by step journey a Facebook user goes through to redeem a deal.
1. The deal shows up on their Timeline


2. They click 'get offer'
3. They see a 'Offer sent' message, telling them to check their email for details and when they need to redeem the offer by


4. They choose who to share this story with – the offer redemption will be posted to their timeline and just like any other post you can choose who will see this. If you're like me and don't really want people to know you're going to buy some cushions on sale, you can choose 'only me' and click OK.
5. The activity is displayed in their timeline and newsfeed (to those who they selected could see it) – if this post was public or visible to their friends they will then also be able to claim the offer, even if they are not fans of the Page


6. Check their email to see the details of the offer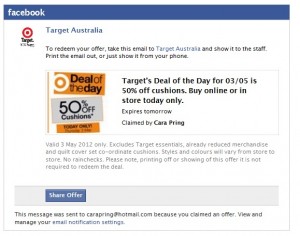 7. They go instore and get the special deal!


Last few words of advice
My advice is to trial a Facebook Offer if you're able to. I would. I think they are an awesome way to get more people into your store and get some viral spread – everyone wins. Particularly as they are free to set up and you can limit the number of people who can redeem. The only words of caution I would give would be to make sure your offer is something people will get excited about – if you just offer 5% off one item in your store, the offer may not work that well. However if you offer something that gets people excited – like a buy one get one free or a 25% off deal, well you'll probably find that your offer works well in driving more sales and new customers.
I'd love to hear if you have run a Facebook Offer – specifically how many people redeemed it, whether it led to a growth in your Facebook community and most importantly what it did for your bottom-line.
Please share with the group