3
How to devise a cross-channel social media content strategy
In my last article, 10 common social media mistakes, I suggested that linking your social media accounts (like Facebook and Twitter) was not a good idea. After posting this to my ridiculously exciting and informative Facebook Page, (which you can find and like here), someone commented that they would be interested in my (and readers') views on how to tailor your content to post across multiple channels, and indeed if you should even be posting the same content across multiple channels.
It's an interesting question (and thank you Jason for posing it), and below is my take on the answer. I'd love to hear what you are currently doing and/or what you think is best practice.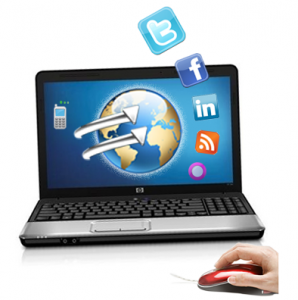 Should you post the same content across all social media channels?
In an ideal world you would have tons of great engaging content and even more time to spend tailoring, scheduling and posting it across your social media channels as appropriate. But, unfortunately, it's not an ideal world, which we all discovered when Tony Abbott was somehow allowed to be in any position of political power and Antoine Dodson made it rich just by being ridiculous. Not to mention the axing of Arrested Development. But anyway. The point it is that we have don't have endless content nor endless time.
That is why I have devised this handy flow chart, to help you figure out what to do. Well it was going to be a handy flow chart but then that got to be too hard, so it's really now just a poor man's text flowchart, but you'll understand it nonetheless. Sorry.
How many social media channels do you use to regularly post updates (eg. Facebook, Twitter, Google+, LinkedIn)?
1 -> why are you reading an article about cross-channel social media content strategy? You only have one channel! Create a Twitter or Google+ account and come back.
>1 -> go to question 2.
2. In general do you have a similar audience across your social channels? As in do the same people/accounts follow you on Twitter as have liked your Facebook Page? This isn't always easy to know, but most of the time whoever is administering the accounts would have a general idea.
No they are predominantly different audiences  -> post the same content
It is about 50/50  -> proceed to question 3
They are all the same people/accounts. [stalker alert]  -> proceed to question 3
3. How much time do you have to spend on social media content dissemination stuff?
Practically none. I'm busy and important. Mostly just important.  -> post the same content
Who the hell has time these days? On the other hand, social media is very important to me and/or my business  -> go to question 4
Yesterday I cut off all my split ends and arranged them in a hair mosaic of Jesus. Does that answer your question?  -> go to question 4
4. Are your updates generally time-sensitive (eg. breaking news, topical content)?
Yes. -> post the same content
No.  -> Take the time to stagger the release of your updates/posts so that you are posting your content at different times (maybe even days) across your social channels. That way if the same people are connected to you, they will not be bombarded by the same message in every channel they are in.
Truth be told just about every company that I have worked for where I have been in charge of the social content strategy I have posted the same content across all channels (which for the most part is just Facebook and Twitter) at the same time. Similarly when I post an article on this blog I will share it on every channel (Facebook, Twitter, LinkedIn, Google+) at the same time.
There's a few reasons for this, one major one being that social media is meant to be pretty timely. If you share an update or some content on one channel but not the other at the same time, the people who see it on the first channel may share it on the other channels and scoop you with your own content. Embarrassing. Or if you post it on one channel and then post it on another the next day, the people who saw it the first day will be wondering why you keep talking about it.
Generally speaking I do not think most people mind if they see the same message from a person or brand on more than one channel at once. Particularly if one of those channels is Twitter, which is so fast-moving anyway. The one thing that you will lose-out on though is the benefit of reach. You are probably more likely to extend the reach of your content if you stagger your sharing. However, who has the time?
Tailoring your content
What there should be no compromise on is tailoring the message to suit the medium. It doesn't take much time to do but may make a world of difference in terms of clicks, likes, retweets etc. This is why you should never link your Facebook, Twitter, LinkedIn or any other social network account together. Very rarely would I post the exact same message to Twitter as I would to Facebook or LinkedIn. It might be the same content, link, image etc but it won't be structured the same.
On Twitter it will necessarily be very direct – basically a succinct description of the content or update and maybe a link to website or picture etc. If you're lucky you might be able to fit in a relevant hashtag.  On Facebook I always try to make things a bit more conversational by asking a question or something else that might stimulate a discussion. I still recommend trying to keep posts to a max 2-3 lines for better visibility, but you also have the benefit of the link description and image etc. LinkedIn I try to keep things more professional – a little less conversational and more informative. Google+ is really just like Facebook but it doesn't matter that much what I do because no one else is on there anyway. (or if you are, add me here).
Only you know your content, audience and objectives but my advice would mostly be to post your updates across your relevant channels at the same time, but tailor the message to suit the platform.
Do you agree or do you think it is best to post different things to your social channels so that the same people don't get overexposed to your content?