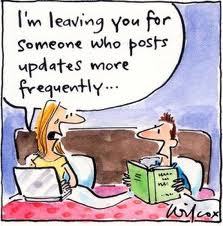 Nowadays, you don't just have to cruise bars to find a date. There are plenty of ways you can find romance and even a partner through the Internet. According to an article in The Independent, nearly six million people in the UK are using online dating sites, a 22 percent increase from last year.
Of these six million people, they are most likely using two main forms of online dating. The first is more basic, involving sites like Facebook, Twitter, chat rooms, and online message boards like Craigslist where people can post profiles and meet up if they wish. However, the main point of these sites is not to find a partner.
The other form involves joining a site where the purpose is to find someone to date and perhaps have a relationship with. For these sites, you have to fill out a questionnaire and the site will match you with other users who share your interests, long term goals, and values. Generally, these sites have a better record of helping people find serious relationships than other social media, but you never know.
And do these relationships last? Research from the University of Chicago suggests that people who met their spouses online tend to report higher marital satisfaction. However, this could be because those who tend to try online dating also tend to be older – 30s to 50s – and may already have experience with long term relationships.
The Dark Side of Social Media
However, social media plays a role in splitting people up and divorce too. The fact that we can connect with a wider range of people through our social sites means that we have an increased likelihood of running into people to cheat with. In fact, it's almost become a cliché – spouse looks up an old flame on Facebook and before you know it they're having an affair. In fact, how are you going to be able to know if your partner is making his/her way online if nowadays people can take their devices such as BlackBerry 10, iPhone, HTC one, Samsung or tablets among other devices anywhere they can in privacy?
But it's not just a cliché. There is hard evidence to back up the trouble that social media can cause in relationships. Last year, a survey of UK divorce lawyers from Divorce-Online UK found that Facebook played a role in a third of all divorce filings for that year. While the overall number of divorces is remaining stable, it appears that Facebook and other social media sites simply make an existing problem worse.
What can you do to protect your relationship?
While it can be incredibly hurtful to see a relationship end because of bad behavior on social media, it's important to recognize that Facebook doesn't ruin relationships. Only people can do that. If there was a problem in your relationship that came to head on social media, then there may have been deeper problems in your relationship.
That said, some experts recommend trying to limit social media interaction from the very beginning of a relationship. That way, you'll be putting energy into getting to know each other and building a solid foundation instead of spending time checking out each other's Instagram pictures. What you should not do, however, is exchange passwords or spy on each other's profiles, as that indicates a breach of privacy.  A relationship built on mutual respect is much more resilient than one with major social media trust issues.
Has social media helped or hindered your relationship? Do you think sites like Facebook will continue to increase the divorce rate worldwide?
Author bio: Claudio, a Brazilian living in England (London) who loves Technology, a gamer during free times and also an animal lover. His main goal is one day be able to work for a big magazine or newspapers company writing articles related to Technology.