0
How and why to become a social media expert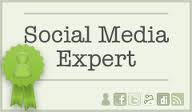 I get two common responses when I tell people that I have a career in social media. The first is confusion – they don't really know what I'm actually doing all day. The second is disbelief that I could actually be making money from playing on Facebook. The truth is that social media is a booming industry right now, and it's not looking like it's going to slow down anytime soon. Every company wants 'in' on this high-ROI, much more targeted and personal medium to reach their customers. They know they don't have the required time or ability to do it themselves, so they need to pay someone else to do it. Whether it's a part-time or full-time employee or an agency depends on the company, but either way there are jobs being created every day.
At the same time, there are very few people who are doing social media as a job. Lots of people are obsessed with Facebook and/or Twitter in their personal life, but they don't know how to cross over to the professional world. The industry is still too young to have many people graduating from educational qualifications in social media. These factors all combine to lead to a huge opportunity for people looking for a career change to take advantage of this boom and become a social media expert/specialist/strategist/manager.
Oh, and like anything where demand outstrips supply, the money you can earn in this industry is typically higher than most others. If you do a good job, that is. The average salary for Social Media Managers in Australia is $95,000 a year. Not too shabby.
That's exactly why you should become a social media expert.
Now, how can you become one? View my video (it goes for 1.5hrs!) on the first steps you need to take to becoming a social media expert. I guarantee you'll walk away with a good understanding of what is involved, how you can get your foot in the door and how much effort you will need to put in to get there.