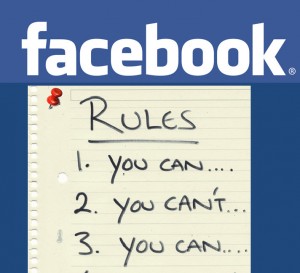 Facebook have completely changed the game around Facebook competitions in the last couple of weeks. I've written various articles about the restrictions placed on contests and promotions by Facebook in the past, which have outlined how so many pages continue to flout the rules and put themselves in danger of being unceremoniously shut down.
The great news is that Facebook have completely changed their promotion and competition guidelines, and the new rules have huge implications. MASSIVE IMPLICATIONS. The biggest being that pages can now continue doing what they've been doing, but it is now actually allowed. Well, most of it.  I've outlined the changes below, as well as the pros and cons of running a competition straight from your wall vs via an application.
What are the new changes to Facebook Promotion/Contest/Competition guidelines?
The biggest and most important change is that you can now run competitions/promotions straight from your Timeline. Previously pages were only able to run competitions through applications, not directly on their page timeline (though many didn't actually know this was the case). This has now changed, and along with it Facebook are allowing entries via Comments and Likes.
What does that mean?
You are now officially allowed to publish a post to your Page that says "Want to win $1000? Like this status to enter." Or post a photo and say 'Caption this pic for your chance to win". What has changed you may be thinking? It's highly likely you saw a spate of competitions similar to this over the last year or so.  And it's highly likely that's why Facebook changed the rules – pages simply weren't adhering to their previous guidelines anyway. That being said, some pages continue to break the rules by posting competitions that require people to share things to their wall to enter the competition. To break it down nice and simply for you, here's an overview of what you now can and can't do with Facebook competitions:
What you can do:
Run competitions through your Page wall/timeline (through a post) and/or via an application
Allow people to enter your competition via commenting or liking your post
Allow people to enter your competition via direct message to the Page
Allow people to enter your competition by posting on your wall
Use 'likes' as a voting mechanism – ie. people can vote for their favourite entry by simply liking it
What you still cannot do:
Administer a competition on a personal timeline
Require or encourage people to tag themselves in content they are not depicted in
Require or encourage people to post or share anything to their personal timeline
These new rules mean that it is so much easier, particularly for small businesses with small social budgets, to run competitions through their Pages quickly and cheaply. But in some cases, it may still be preferable to use an application. Here's a run-down of the pros to each method:
Why use an app to run your Facebook contest?
It allows a more personalized and branded experience
There is more flexibility in terms of content you can provide and interactivity
You can collect more data from entrants – eg. their email addresses, business names etc.
You can require the opting into a newsletter to expand your database
You can like-gate the competition – ie. Entrants must like your page to enter (thus better opportunity to grow your community)
You can easily keep all entries in one place for your community to share, like and vote on (ie. Gallery)
You can prompt entrants to share their entry with friends after they have entered, increasing viral exposure (and you have control over the message that is being shared)
Easier to collate all entries and entrants' details in one place for judging*
*Shortstack have somewhat addressed this issue with using your Timeline as the competition platform by creating a Comment/Like Importer feature. This connects to your Facebook Page's Timeline and pulls the comments and likes for any status update you choose – these are then stored in a database for easy access via Excel or CSV file (which also makes it easy to select a random winner). Check it out here.
Why use your page to run your Facebook contest?
Faster and easier
Cheaper to run – no requirement to pay for third-party apps or pay a developer
Easier for entrants to enter, thus likely to gain more entries
Potential for greater viral exposure via post showing up in entrants' newsfeeds who have liked/commented
No mobile compatibility issues
Of course, if you want to get the best of both worlds you can always use both an application and your wall to run your competition. If you want to check out Facebook's new promotion guidelines in more detail, you can do so here.
I don't know about you, but I'm pretty darn excited by these changes – it's another kudos to good ole Zuckers for making life easier for the very people who are keeping him in business (businesses).
What do you think about these new changes? Are you going to run your next Facebook competition via your timeline or an application?