Only a week or so after my last post about all the changes Zuckers and his team rolled out to our profiles to make them more Google+-ish, I now have another post-worth of new Facebook changes! It seems they have gotten awful serious about improvements and the continual GPlus-ifying of Facie-bee and for once they seem to be mostly useful. So what are these new changes and what do they mean to you? Read on.
Facebook Subscribe
Some of you may have already noticed that Facebook is prompting you to allow the Facebook Subscribe functionality (see example below – hard to miss!). Basically what this means is that you can now see public updates from people who are not your Facebook friends, if you want to. Personally I don't really want to, because if I cared about their lives or what they had to say I'd be their Facebook friends, but I guess it's useful for stalking people without their knowledge.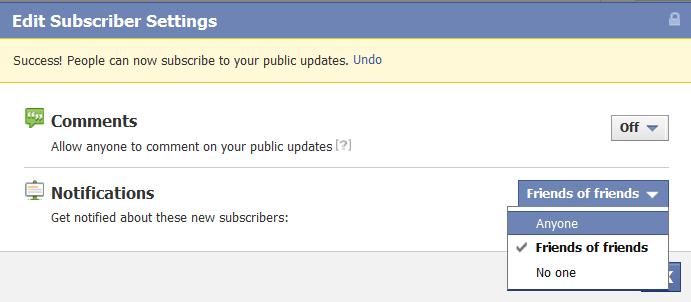 This brings the network closer to Twitter and Google Plus, where you don't need others' permissions (for the most part) to be able to see their posts. However you can only see their 'public' posts, which may very well not include any of their status updates if they are anything like me.
According to Facebook the Subscribe button allows you to:
Choose what you see from people in News Feed
Hear from people, even if you're not friends
Let people hear from you, even if you're not friends
You can also choose what you see in your News Feed from your friends' posts. With the subscribe button you can choose if you want to see all updates (everything), most updates (the normal amount you usually see) or important updates only (just the highlights).  This part of the Subscribe functionality isn't working for me as yet, but you can see examples of it here.
Lastly, you can control if you want people to be able to subscribe to your updates, and what updates you want them to see. Any updates you are happy for your subscribers to see as well as you friends, you can choose as 'Public' when you are posting.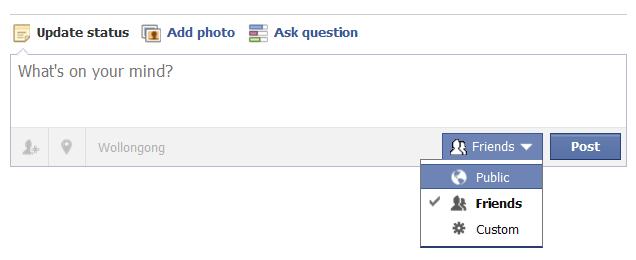 Facebook Smart Lists
Though it hasn't yet been rolled out to everyone (particularly not us poor Aussies), some of you may have noticed the introduction of Facebook's Smart Lists – basically a glorified version of Google's 'Circles'. As much as everyone out there is grilling Zuckers for essentially copying Google+, in my opinion it's a very smart strategy. We all thought Circles was the best part of Google+, and the biggest advantage over Facebook, so why shouldn't they do something to combat this? It would be stupid to ignore it.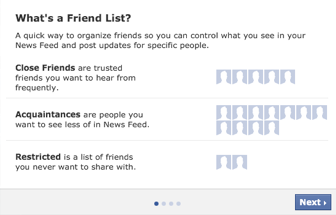 So what do Facebook Smart Lists mean to you? They are really a major improvement on the old Facebook Lists, that nobody really used as they were too clunky. The new and improved version is much more intuitive and prominent. Facebook is automatically creating a bunch of 'smart lists' for you which are based on profile info that your friends have in common with you, for example work, school or city.  They are also creating 'Acquaintances' and 'Close Friends' lists, which you have to populate yourself.  You will then only see the most important content from the Acquaintances list, but much more of everyday updates from your 'Close Friends'.
Like Google+ Circles, when posting updates you can then decide which lists you want to see it. The people on the list you've shared with will be able to see each others' names. In this way your friends can comment on the post knowing exactly who will be able to see it.
Users can manually add or remove members to any of their lists, and Facebook is making this editing process easier too. With a very similar design to Google+, user profiles now display a button allowing for instant admission into a list, rather than forcing users to go back to the Friend List editor. Users can even preemptively assign a potential friend to lists while they await a response to their friend request. Suggestions for people to add to a list, based on their similarities with existing members, will now appear beside the news feed when that list is applied as a feed filter.
It may take a little getting used to, and it's probably still not quite as good as Circles, but it's definitely a step in the right direction. Good on you Zuckers.
If you want to read more about this and see more pictures, see the Facebook blog, or Inside Facebook's very handy and detailed overview.
Facebook View Shares
Another handy change Facebook have rolled out for page admins and general users alike is the ability to see the number of times a post has been shared.  This began as a limited trial but now seems to have been rolled out across the board on posts by both users and pages.  You can click on the 'View X shares' and a pop-out will appear listing the people who shared the content and how they shared it.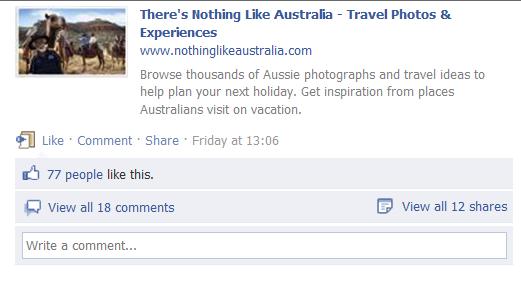 It still respects privacy, so only public share posts or those by one of your Facebook friends will be viewable.  For example, the icon may say 'View 12 shares', however when you click on it only the three 'public' posts (or any done by your friends) will be viewable.
It sounds fantastic and fills in a previous gap in analytics for page admins, however unfortunately it has now removed the 'via [page name]' that was previously included when you shared a post from a page. This obviously means less opportunity to grow your community.
Page admins might not be entirely happy about the change, though, as now when a user Shares one of their posts, it doesn't include a "via [Page name] link back to the Page that originally posted the story. This means Shares no longer offer Pages an opportunity to gain new fans.
While this is a bummer, it's still very useful to see what content is the most 'share-able' and likely to gain viral legs, which can then help to tailor your content strategy.
So that's basically the three major changes to our Facebook feeds and profiles over the past couple of weeks. What are your thoughts? None of them are life-changing but to me they all seem to be a step in the right direction, even if inspiration may be coming quite strongly from the Google+ front.
They do say imitation is the highest form of flattery, right?