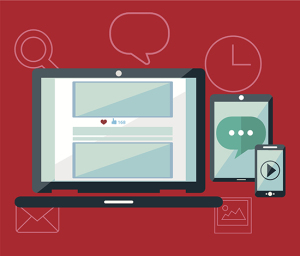 Author John Morrow said "Blogging isn't about publishing as much as you can. It's about publishing as smart as you can." For the contemporary blogger, publishing smart means publishing fast. In the whirl and twirl of contemporary online content, the last thing you want to write about is yesterday's news. Luckily, for the online scribe on the go, blogging has become increasingly mobile-friendly. Here are three of the best apps to help save you time and money while you're keeping up with the ever-changing trends and demands of your readers.
Evernote
Evernote is perfect for the blogger on the fly who wants to stay organized and can be an invaluable resource for time-saving. It's an app that keeps track of the little reminders you scribble down every day to generate blogging content later. It's the virtual equivalent of a restaurant napkin or the back of your hand. You can write quick notes or do substantial research, then access them later on a PC, tablet or mobile phone! It syncs with all of your devices. You can also organize your thoughts by creating notebooks or adding different tags to projects. Evernote gives you options to share your resources and ideas with others by creating shared notebooks for collaboration and you can make to-do lists to keep your OCD in check, as well as manage your expenses by organizing your bills, invoices, and receipts.
Photo Editor
As a techno-wordsmith, your smartphone is your Swiss Army knife, and it needs to be equipped with all the little appendages needed to blog on the fly. You're going to need an editing app for when you stop your bike, whip out your smartphone with eight-megapixel camera, and snap a shot of that lovely sunset, only to realize that the contrast is all wrong. Open up your mobile photo editor and perfect it before you post the pic to your blog. Photo Editor allows you to do this and a lot more. You can edit, crop, and re-size your photos plus add text, drawings, and graphic effects including auto contrast, sharpen, gamma correction, blur, auto tone, sketch, oil paint, sepia, and black and white high contrast. And best of all, it's free. You can save the money you would have spent on expensive photo editing software for a rainy day.
Blogger
The last necessary app recommended for mobile blogging is the most obvious: Blogger. Naturally, you'll need an app to organize and host your blog. Blogger is customizable and very simple to use. An Android app owned by Google, this service covers all the basics. You can create and post new blogs, edit existing posts, manage different blogs, embed images from your smartphone into your posts, and add a time and location to your blogs. You can begin a post then save it for later, or for your latest and greatest Kardashian commentary, compose and publish immediately. Blogger's simplicity will cut down on the time required to set up and manage your blog, giving you more time to focus on generating original content.
The technology tornado that is online blogging can easily get away from you, but with the help of few apps to you get organized, as well as save you time and money, you can post on the go, and work smarter, not harder, as a blogger.