1
Become a Pinterest Warrior: How to Use Pinterest to Drive Sales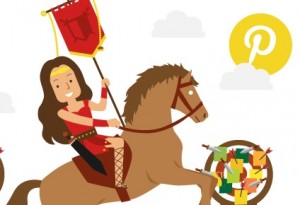 It may be a man's world, but don't let that fool you when it comes to social media. Pinterest is a seriously important social media platform for your business and that means thinking with their largest user base in mind — women! In order to tap into this very loyal, very active user base on Pinterest, there are a few things to consider.
The first rule of any social media platform is to consider your audience. In the same way that you wouldn't run a commercial for car tires on a children's cartoon channel, you should choose information that users will find personally relevant and interesting! Around 80% of 70 million active Pinterest users have identified as women.  That's a huge number of active lady Pinners you can reach! Pinterest is a great way to amp up the personality behind your brand — it makes your business look approachable and up-to-date on current trends. Turn people on to your business by remembering the turn-offs — hard-to-find information and overly-technical ideas.
In addition to adding a human element to your marketing message, Pinterest is also a great way to educate and inform in byte-sized pieces. In the current age of information, many consumers look to the Internet first. Not only do many prefer the instantaneous shopping experience e-commerce allows, they also get a good feel for particular brands. Checking out a company's website is one thing, but consumers become comfortable with your brand by connecting with your social media platforms. Include your company's website on your page and conversely, integrate Pinterest with your website so that users can pin content at the simple click of a button. Users should be able to not only "like" the content through Facebook and tweet it through Twitter, but also pin your content to their Pinterest boards. Choose content that is attractive and interesting — it can be an old product or event, so long as it fits within your brand message and is likely to attract interest. Industry news and trends are a great place to start. Social media is about participating in a dialogue, so make sure that you are taking part in the current happenings in your industry. Excitement is palpable. If you're passionate about your message, show that to your audience- because that kind of mindset will attract other people.
Pinterest has several aspects to utilize in order to optimize your reach. Many users have cited the scrapbook-style of Pinterest's interface as appealing; and the site is well-known for proliferating decorating tips, dessert recipes and fashion. Pinterest packages your pictures and information according to groupings called boards, divide up your products along these guidelines. Keep in mind to group your media along lines that not only make sense for your product(s), but also make sense to the Pinterest community. Use tagging to categorize your content, making it easy to find as well as introducing yourself into the social media stream of your industry.
Take a look at this infographic and start honing your skills to become a Pinterest Warrior! Take into consideration what we've discussed here and you'll be on your way.