5
And finally a REAL social media fail to learn from: the story of Channel 7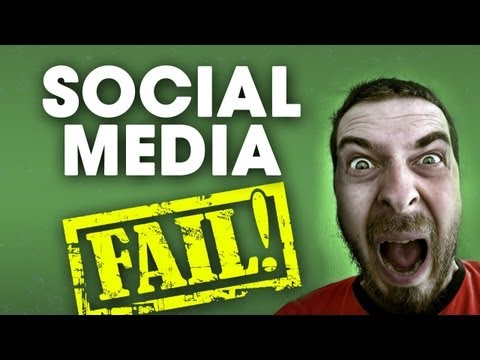 For those who may have read my very passionate and controversial previous post about the Qantas 'social media fail' – and then my post about the somewhat less than perfect use of social media by the Commonwealth Bank, you are probably aware of my disdain towards the term 'social media fail', which is bandied around and applied to brands with very little hesitation or real consideration.
Apparently in this day and age a business need only get a few negative comments or tweets (or no comments or tweets at all) to be labeled as a failure in the social media space and publicly ridiculed by whatever media outlet is having a slow news day. Of course this has nothing to do with the fact that traditional media are not only disdainful, but scared of the power of social media because let's face it – it threatens their two livelihoods – the ability to control information and their advertising revenue.  And just to clarify, heavy sarcasm was intended in that previous sentence.
Social media not only gives the power to the people to spread news – faster than any TV, newspaper or radio station – but also gives power to brands to effectively market to more people than the readership of Time Magazine or the local radio station. Brands are recognising this opportunity and adjusting their marketing and media budgets accordingly. Much to the chagrin of the world's once powerful (and admittedly still fairly powerful) media outlets.
What this means is that it's in their best interests to ridicule, deride and essentially annihilate the reputation and credibility of any brands that dare to venture into the social media space to harness the opportunity of reaching thousands – even millions- of people without spending a cent in traditional media spend. So that is exactly what they do. Social media fails all round! Their aim is to scare management of every brand around the world into abandoning social media efforts in favour of the tried and (somewhat) trusted traditional advertising channels. And let's be honest – they are succeeding to some degree, though probably not nearly as much as they would hope.
With this in mind it gives me great pleasure to today cover what I deem to be a real social media fail by none other than a major media outlet. One of the culprits of over-hyped coverage of others' 'social media fails' in the past. Good old Channel 7 (in Australia).
Not through a fairly ordinary competition, post or campaign that didn't go to exactly to plan – but a social media action that was taken that flew in the face of everything that social media is meant to be about. A direct flaunt to the social media community and an attempt by a major Australian news outlet to do what it knows how to do best – control information. But here's a social media fail for you Channel 7 – you aren't the only ones who can spread news anymore. Facebook and Twitter are pretty freaking good at it too. So you have probably realised – though I haven't seen you cover your own social media disaster like you so hastily have covered those of other brands. Funny that.
So what was the great social media fail of Channel 7 and what can we learn from it?
Now that I've gone to great pains to build up the real social media failure of Channel 7, and had a bit of a whinge about traditional media outlets on the way, I guess it's time to outline exactly what they are guilty of – and what lessons we can learn from their misguided actions.
Recently a young girl was killed in a quad-bike accident in rural NSW and in typical invasive journalistic techniques Channel 7 completely invaded the privacy of the family by filming the mother in a very intimate moment with her deceased daughter via helicopter over the property. This prompted the mother to take to the Channel Seven Facebook Page to vent her anger at the invasive actions – allegedly (I did not see the post) she wrote:
"I would just like to let everyone know of the pain and harassment we suffered as a result of channel 7. A reporter was on our private property very soon after the accident and whilst Molly [her daughter] was still on the ground. He walked up to the house down to the stables anywhere looking for a story. I went outside at some point to go to her horse for some comfort when the channel 7 helicopter flew above me trying to get footage. My husband was overseas at the time of the accident but footage of myself sitting with my deceased daughter was put on the channel 7 website for the world to see before I had even told all of my family. Channel 7 you are a disgrace and what should have been a private moment between a mother and her daughter was exploited for the sake of an exclusive story. You bastards."
Now I'm not going to get into a debate about the practices employed by Ch 7 here because a) I doubt there'd be many who would disagree it was fairly disgusting and b) it's not the point of my blog. But the actions taken by Channel  7 after this was posted by the mother only made their situation worse. Can you guess what they did? Yep, they deleted the post. After it had attracted more than 32,000 likes – no less. What idiots. Seriously – did they think that after getting the attention of over 30,000 people that removing the post was going to help their situation? Did they think no one would notice?
I do not think so. Instead it caused rival media outlets to report on the newest social media fail to behold the country – and bring it to the attention of tens of thousands of more people – including myself.
Here's the thing about social media: it's very public. It can really expose your brand to scrutiny that you don't want to endure. It can call out your weaknesses and over-exaggerate them to the point of injustice. It can villainise your entire brand due to the actions of just one staff member. It's not always impartial, it's not always fair. But you can't hide from it. You can't run from it.
You can ignore it, you can try to erase it, or you can face up to it and see it as an opportunity. If you ignore it you're not going to fix anything. If you try to erase it you're inevitably going to make things worse. But if you face up to it – if you admit your flaws and apologise for your actions – then you may find the same social media community that so eagerly vilified you is just as quick to forgive. Maybe.  In the case of Channel 7 I doubt we would have been quick to forgive them for their completely insensitive and invasive actions, but I can guarantee you they have made the situation much, much worse by deleting that post.
And that, my friends, is a true social media fail.