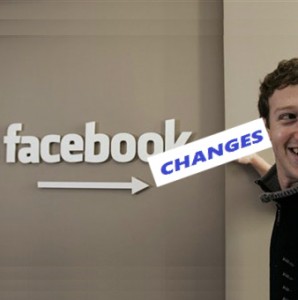 Zuckers and the team have been keeping pretty busy of late it would seem, rolling out a whole heap of Facebook changes and – as always – failing to adequately communicate them to users. Which, if I'm honest, I'm glad about… because it gives me that job. So with the super important responsibility of keeping you lot informed, feast your brains on the new Facebook features I have covered below. There are nine of them – but I suspect the title of this article was a bit of a spoiler on that count. And – more surprisingly – most of them are pretty good (or – at least not excessively annoying/money-grabbing).
1. Emoticons invade Facebook chat
For those who are fans of the Social Skinny Facebook Page, you are SO AWESOME. Also, you probably would have already seen me post about this little change that was implemented sometime last week. Basically what it means is that we can choose from little emoticons in our chat bar. Not really that exciting – and slightly old-school – but at least they aren't covered in advertising. Yet.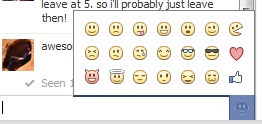 2. You can now edit your Facebook comments – at any time.
Best change ever. Now I can see how this could be annoying when others change their Facebook comments. But how good is it that you can do it? It's pretty much the worst EVER when you realise you've spelt something wrong and people have already commented after you, making it impossible to correct your mistake without leaving the conversation altogether. Well, now you can fix it. You could also abuse this feature to make other people look stupid and/or crazy by changing your comments to something completely unrelated to what they then reply to you in the same thread. This could present endless opportunities. ENDLESS I tell you.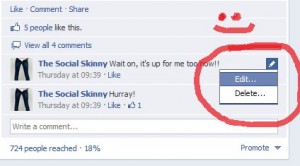 Oh and this applies to both profiles and pages. If you've posted comments on behalf of a page you can also edit them. Hurray!
Anyway the other thing to keep in mind is that you can also view all your edits on comments, just in case you decide to go edit crazy and change them 10-20 thousand times. Facebook will keep track and let you see all the previous versions of your comments. Because, I think we all know, we will DEFINITELY want to see these. Definitely.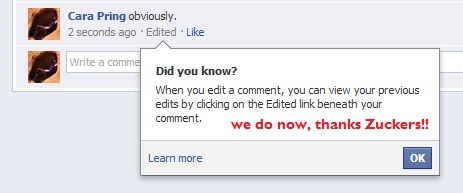 3. Export your Facebook Events
I love this one. You can now export your Facebook events so that they appear on your online calendars including Apple iCal, Microsoft Outlook and Google Calendar. No more excuses that you 'forgot' anymore! Brilliant.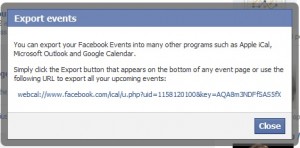 4. Reposition photos in your feed
Ok so generally speaking I think we can all agree that I am pretty much THE authority in social media. However, sometimes things happen that remind me that I may actually be human, just like all of you, and not as all-knowing as I (and you) otherwise believed. This handy little feature brought me back down to earth when I noticed it the other day. I am not entirely sure when this was introduced, and to be honest I'm too lazy to google it to find out. So I'm not entirely sure this is new per se, but I'm guessing if I wasn't aware of it then probably most of you aren't too. Hence its inclusion. What exactly is it? Well, I'm glad you asked. Essentially when you post photos to your page or profile you will notice Zuckers takes the liberty of sticking them in little rectangles that fit in with the Facebook Timeline format. However the bummer is that sometimes this doesn't necessarily flatter the photos, even sometimes cutting off important sections. The good news is you can actually reposition all of them to show the most important parts. Awesome? Yep.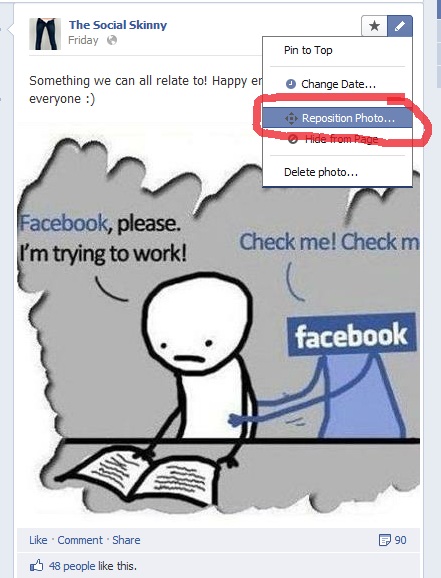 For example, I repositioned this particularly humourous image on my Page the other day so that you could read the most important text. Love this feature, thank you Zucks.
5. Find your nearby friends
As if Facebook wasn't stalkerific enough, you can now use a handy feature on your Facebook mobile app (or simply by visiting http://fb.com/ffn ) that will display all your Facebook friends who are nearby. Before you start panicking and expecting your ex to start popping up 'coincidentally' when you're at the shops, gym and having dinner at your folks', Facebook will only display the people who are also logged into this particular feature at the same time. So what that means is that if you're not looking for people nearby, no one will be able to see where you are. This is both a relief but also somewhat makes the service superfluous in my opinion. You can already find people who have checked in nearby anyway.
Although apparently you are also able to see people who are not your Facebook friends through this service as well – but to be honest I've never gotten it to work through either the URL or by going through my mobile app ( menu > apps > find friends > other tools > Find Friends Nearby). And secondly, since hardly anyone even knows about it at the moment I'm pretty sure even if it did work, nothing would show up. But nonetheless, that's the news so use it or don't as you see fit!
And thirdly, I just tried to use it on my phone again and it seems to have disappeared! Anyone who wants to share their experience of this feature please do so in the comments section below 

6. Highlight your personal posts (on your profile)
This one is a bit of a weird one. You can now pay to 'highlight' your own personal profile status updates or posts. All you do is click on the little 'highlight' hyperlink underneath your post for it to be given more exposure to your Facebook friends. Facebook doesn't seem to have revealed the exact science of this feature nor do they appear to give you too much indication of just how much extra exposure your post will get, but hey no one is really going to use it anyway so who cares. Also, they only seem to give me the option to pay in British pounds… weird.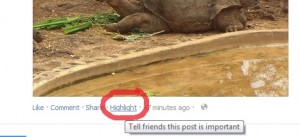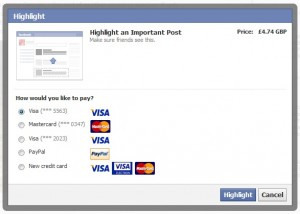 7. Promote your Facebook Page posts
If your page has more than 400 likes you can now get extra exposure for your posts by clicking the little 'promote' button under your posts. Choose what budget you'd like to spend and Facebook will let you know the estimated reach you'll get. This will get extra exposure for your post in your fans' newsfeeds – NOT as Facebook ads on the right-side of the page.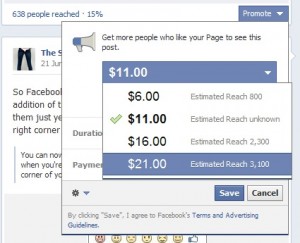 Oh and I did just realise that I have already written about this feature in my previous Facebook update post… so sue me. I'm a busy person, I can't keep up with shit that I've written in the past. Jesus.
8. People reached metrics for Facebook Page posts
I really like this one too – Facebook has added the ability for you to see how your Facebook Page posts are tracking in terms of the number of people who have seen them (or at least been exposed to them), and also provides this number as a percentage of your total fan-base. If you hover over the data you can also see the split between organic (people who are your fans) and viral (friends of your fans who have seen the post). Pretty bloody cool me thinks.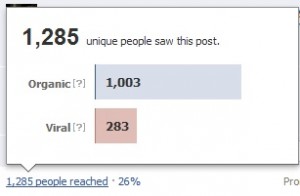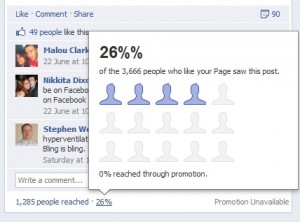 9. Your Facebook friend count has probably jumped
This isn't really a new 'feature' per se but you may have noticed recently that your Facebook friend count has inexplicably jumped. I did, because I try my hardest to keep it below 300 and then all of a sudden the world had gone mad and it was 326 and my popularity was WAY artificially inflated. I did wonder what had happened, but in typical Cara laziness I just ignored it… until I saw one of my favourite readers post an article about it – according to the lovely Jo Darby, Facebook issued this explanation:
We recently changed the way we count the number of people you are friends with to include some accounts that are not currently active on the service. It is important to note, that while we are showing different counts, no additional user information will be available. Due to our internal infrastructure we can provide an even faster experience for those that use our service by showing these modified counts.
You can go through your friend list to find these deactivated accounts and unfriend them… if you can be bothered. Which eventually I probably will, since I don't like to have more than 300 Facebook friends (yes, it's very anti-social of me!).  Anyway if you want to read more, you can visit her article here: http://pose83.com/digital-marketing/why-have-your-facebook-friends-just-jumped-up/
So that's about the extent of the new Facebook features recently. They are also scrapping Credits but I didn't bother writing about that because let's face it – no one was ever using them so who really cares.
Any other new developments I've missed? Be sure to rub it in that I'm a lazy, crappy social media guru (even though we know I'm still the best in the world).
Have a great week!