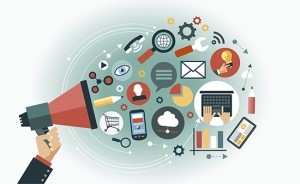 10.4 percent of company revenue in 2012 was spent on marketing, according to a 2013 U.S. Digital Marketing Spending Survey by Gartner. Spending upwards of 10 percent of your budget on marketing strategies may not seem like a good idea—you might feel like your investment in marketing is being gambled on a return. Whether you have a robust budget or not—marketing can be done inexpensively and result in high returns. Leverage free products and giveaways to entice customers to spread the word about your business and turn them into loyal fans.
Offer Products via Social Media
Create a buzz online while turning prospective customers into buyers by offering free products on social media channels. Market products that have yet to be released, mock it up as a sneak peak before they hit the market. Ask followers to leave a comment on Twitter, Facebook, YouTube or your blog and offer to increase their odds of winning by putting their name into the pot multiple times if they share across a variety of channels. Request that the winner review your product on their own social media channels with a link back to your company.
Use a Gift to Promote a Customer Service Survey
Show customers you actually care what they think by launching a customer service survey. Ask questions that will give you a deeper insight on how to improve your company's products and customer service. Keep the questions short, and entice entrants with the chance to win a prize like company products, a gourmet gift basket of their choice, or gift cards.
Give Digital Discounts
Offer coupon codes for freebies exclusively on your social media channels to entice customer sign ups and social sharing. Require that a certain number of customers must Tweet or "like" your promotion on Facebook before it goes live and is ready to claim. Coupon codes can be set to expire after a certain amount of sign ups or can be turned into discount offers to bring money back into your business.
Entice Product Reviews
Product reviews are common on sites like Amazon and Zappos but reviews can be employed on blogs and social media sites, too. Connect with bloggers who write about the type of products you're offering and ask if you can send a product in exchange for a review. Take it a step further and suggest giving away products via contests to a few of their blog readers. Once the winners are announced, follow-up and ask if they will spread the word on their personal blogs or social media channels.
Loyalty Giveaways
Offer an endless, unlimited supply of your product with a catch. Hurricane Grill and Wings in Florida offers a free appetizer when customers sign up for their loyalty program. The restaurant reasons that appetizers are often paired with other menu items and customers will also order other food and drinks during their visit—typically spending more money. Think beyond a few promos and offer customers an endless giveaway option if they show you their smartphone with an updated social media post about your company. This offer is simple—no points or cards to keep track of, and customers can keep posting again and again until they've become some of your best marketers.